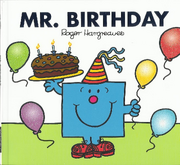 Mr. Birthday is part of the Mr. Men series of books, by Roger Hargreaves.
Story
Mr. Birthday loves birthdays. He is also the best at organizing birthdays, such as a silly party for Mr. Silly, one without balloons for Mr. Jelly incase they burst, and one for Mr. Happy. But will Mr. Birthday be able to celebrate his own birthday?
International publications & translations
This is a list of alternate titles for this book being published internationally.
Monsieur Anniversaire (French)
Mister Geburtstag (German)
Don Cumpleaños (Spanish)
Signor Compleanno (Italian)
Meneertje Jarig (Dutch)
Senhor Aniversário (Portuguese)
Ο κύριος Γιορτούλης (Greek)
Fætter Fødselsdag (Danish)
Herr Fødselsdag (Norwegian)
Herr Födelsedag (Swedish)
Herra Syntymäpäivä (Finnish)
Herra Afmælið (Icelandic)
Pan Urodziny (Polish)
Мистер День рождения (Russian)
生日先生 (Chinese)
たんじょびくん (Japanese)
생일씨 (Korean)
מר יום הולדת (Hebrew)
List of characters
This is a list of Mr. Men, Little Miss and other special characters that appear in this book.
Pictures Only
Counterparts
See Counterparts Wiki.
Gallery
See also
External links
| | | |
| --- | --- | --- |
| V · T · E | Roger Hargreaves | |
Community content is available under
CC-BY-SA
unless otherwise noted.