"Whee!"
— Mr. Bounce, The Mr. Men Show
Mr. Bounce

Book No.

22 (UK and US)
41 (France)

Release Date

14 April, 1976

Preceded by

Followed by
Mr. Bounce is the twenty-second book in the Mr. Men series by Roger Hargreaves.
About him
Colour: Yellow
Shape: Circle
Gender: Male
Personality: Flexible, Elastic, Bendy, Bouncy, Firm, Anti-gravity, Energetic, Active, Vital
Hair: None
Family: Unknown
Height: About 2¾ inches tall (book); Nearly the normal Mr. Men height (The Mr. Men Show)
Weight: Very light
Friends: Mr. Scatterbrain, Little Miss Scary, Little Miss Whoops, Little Miss Sunshine, Mr. Grumpy (one-sided on Mr. Bounce's side), Mr. Bump, and Mr. Strong
Rivals: Mr. Grumpy (one-sided on Mr. Grumpy's side)
Occupation: Sporter
Dislikes: Shoes and very few things.
Job: Bounces a lot and can't stop
Features: Pink bowler hat (book), Red bowler hat (Mr. Men and Little Miss), Pink bowler hat with stripe (The Mr. Men Show)
Nationality: Northern Irish (UK), South Asian (US)
Voice Actors: Arthur Lowe (1975-1978), Arnold Stang (Mr. Men and Little Miss, some episodes), Gordon Peters (Mr. Men and Little Miss), Neil Crone (US dub), Sam Gold (The Mr. Men Show), Simon Greenall (UK dub)
Catchphrase: "Hello! Goodbye!"
Story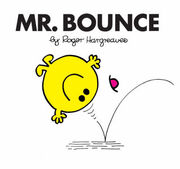 Mr. Bounce was very small and like a rubber ball; he couldn't keep himself on the ground. One day, he has enough with the bouncing, and visits Dr. Makeyouwell to receive a pair of heavy shoes. Now, he doesn't bounce as much anymore.
The Mr. Men Show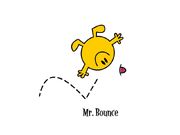 In the 2008 TV series The Mr. Men Show, he looks the same except he is bigger and his hat has a light pink stripe on it and floats. He has an Indian accent in the US version and a Belfast accent in the UK version. His bouncing about causes chaos for the other Mr. Men and Little Misses in Dillydale, especially when he's out in public. In the UK and US Versions, he is voiced by Sam Gold and Simon Greenall.
Trivia
Mr. Men and Little Miss
In Mr. Men and Little Miss, his hat was red instead of pink.
In the original UK broadcast of Mr. Men and Little Miss, he pauses inbetween his sentences.
The Mr. Men Show
He was Little Miss Scary's assistant in the episodes The Dark and Up And Down. In the latter episode, he was her "bouncer" (someone who either allows or rejects guests from entering premises).
His house has beams under it for support.
He was seen once without his hat in Sleep.
He was treated like an object when on a plane, shown in Flying and Eyeglasses.
He seems to like wearing Little Miss Scary's masks and scaring like her in the episode The Dark.
His bouncing annoys Mr. Grumpy more than anyone else.
His 2008 design looks exactly like Mr. Tickle, the only differences being that Mr. Bounce is a little smaller than Mr. Tickle, and Mr. Tickle is orange with a blue hat.
Counterparts
See Counterparts Wiki.
International publications & translations
Mr. Bounce appears under the titles:
Monsieur Bing (French)
Unser Herr Hupf (German)
Don Saltarin (Spanish)
Meneer Stuiter/Meneertje Stuiterbal (Dutch)
Senhor Saltitão (Portuguese)
Ο Κύριος Χοροπηδούλης (Greek)
Hr. Hopla (Danish)
Pan Podskoczek (Polish)
蹦跳先生 (Taiwan)
Mr. Pramsach (Irish)
ぴょんぴょんくん (Japanese)
מר קפיץ (Hebrew)
คุณเด้งดึ๋ง (Thai)
Bay Zıp Zıp (Turkish)
Gospodin Skakutavko (Господин Скакутавко) (Serbian)
통통씨 (Korean)
Herra Skoppi (Icelandic)
List of characters
This is a list of Mr. Men, Little Miss and other special characters that appear in this book.
Title character other appearances
This is a list of other books that the title character has appeared in.
Gallery
Artwork from the Mr. Men Show
Mr. Men and Little Miss Screenshots
The Mr. Men Show Screenshots
Miscellaneous
See also
External links
| | | |
| --- | --- | --- |
| V · T · E | Roger Hargreaves | |