Mr. Brave

Book No.

40 (UK and US)
44 (France)

Release Date

May 9, 1990

Preceded by

Followed by
Mr. Brave is the fortieth book in the Mr. Men series by Roger Hargreaves. He was created by two writers, Viviane Cohen and Evelyne Lallemand and an illustrator, Colette David.
Story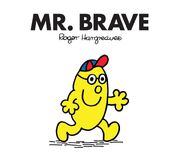 Mr. Brave is the bravest person in the world, or so everyone thinks. He is brave enough to save Mr. Messy from the ocean, but he is not brave enough to go on a tightrope with Little Miss Somersault after he discovers that it is about to split into two. Little Miss Trouble watches this and tells everybody that Mr. Brave is not brave at all, and then she dares him to go the tightrope. He remembers that he is supposed to be at a tea party with Little Miss Bossy and runs away. Little Miss Trouble says that he is not brave because he ran away, but she realizes that he is brave because he was late to the tea party and was willing to face reprimands from Little Miss Bossy. She thought in a moment and said "Gosh, he is brave after all!"
Voice Actors
Gordon Peters (1995-1997)
Len Carlson (1997-1999)
International publications & translations
Mr. Brave appears under the titles
Monsieur Courageux (French)
Mister Tollkühn (German)
Meneertje Dapper (Dutch)
Ο Κύριος Γενναίος (Greek)
Hr. Modig (Danish)
Pan Dzielny (Polish)
勇敢先生 (Taiwan)
ゆうかんくん (Japanese)
용감씨 (Korean)
מר אמיץ (Hebrew)
คุณกล้าหาญ (Thai)
List of characters
This is a list of Mr. Men, Little Miss and other special characters that appear in this book.
Pictures only
Title character other appearances
This is a list of other books that the title character has appeared in.
Trivia
Counterpart(s)
See Counterparts Wiki.
Gallery
Screenshots
Mr. Men and Little Miss Screenshots
Other
See also
External links
| | | |
| --- | --- | --- |
| V · T · E | Roger Hargreaves | |