Mr. Busy is the thirty-eighth book in the Mr. Men series by Roger Hargreaves.
About Him
Colour: Blue
Shape: Bean
Gender: Male
Personality: Diligent, Caring, Conscientious, Dutiful, On-the-go, Engaged, Busy, Occupied
Hair: None
Family: Little Miss Busy (possible relative), Mr. Rush (possible cousin)
Friends: Everyone
Rivals: None
Occupation: Varies
Species: Shaped Human
Loves: Working a lot
Dislikes: Being lazy.
Height: About 6 and a half feet tall
Weight: Above Average
Features: Brown Top Hat
Voice Actors: Gordon Peters (1995-1997), Neil Crone (1997-1999)
Story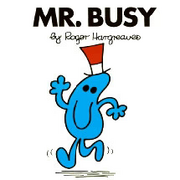 Mr. Busy can't stop rushing around, always up to something, never sitting still.
International publications & translations
This is a list of alternate titles for this book being published internationally.
Monsieur Rapîde (French)
Don Ocupado (Spanish)
Meneertje Druk (Dutch)
빨라씨 (Korean)
勤勞先生 (Taiwan)
Ο Κύριος Πολυάσχολος (Greek)
Unser Herr Schnell (German)
Bay Hızlı (Turkish)
いそがしくん (Japanese)
Hr. Effektiv (Danish)
מר עסוק (Hebrew)
Pan Harówka (Polish)
คุณงานยุ่ง (Thai)
List of characters
This is a list of Mr. Men, Little Miss and other special characters that appear in this book.
Mr. Slow (In fact, this book is chronologically before his, so he appears in this book before his own)
Voice Actors
Gordon Peters (1995-1997)
Neil Crone (1997-1999) (US)
Trivia
Counterpart
See Counterparts Wiki.
Title character other appearances
This is a list of other books that the title character has appeared in.
Books
Television
Gallery
Mr. Men and Little Miss Screenshots
See also
External links
| | | |
| --- | --- | --- |
| V · T · E | Roger Hargreaves | |