Mr. Calm

Book No.

50 (UK)
51 (US and Canada)
52 (France)
48 (Australia)

Published

3rd September 2021

Preceded by

Followed by

N/A
Mr. Calm is the fifty-first book in the Mr. Men series by Roger Hargreaves and the seventh one created by Adam Hargreaves. He was created for the series' 50th anniversary special and was one of 5 characters who fans could vote for to become a permanent part of the series.
On 16th May 2021, it was announced that he and Little Miss Brave won the vote and would be turned into official books. The publication of this book was 3rd September 2021.
About Mr. Calm
Mr. Calm has a very peaceful and easy-going outlook on life. He appreciates the simple pleasures, including spending time in nature and practising yoga, but he also loves rock climbing and parkour when he's in the great outdoors. He encourages his friends to think before they act and live in the moment. His relaxed and tolerant perspective means that he is a calming influence and a wise head.
Story
Mr. Calm is the calmest person in the world. Nothing could upset or disturb him, not even his disruptive neighbours Mr. Grumpy (who yelled at the chirping birds), Mr. Noisy (who was loudly playing his drumkit), and Mr. Fussy (who was commenting on Mr Calm's 'messy' front yard). He is also calm in the face of crises, although one thing that does trouble him is how hectic his friends' lives are. So he decides to take them all on his morning walk. At first nothing seems to go right: Mr. Grumpy's feet get sore, Mr. Noisy scares all the wildlife, Little Miss Quick hurries through the woods much too fast, Little Miss Stubborn argues which way to go, and Mr. Fussy just doesn't like anything. Despite all this, Mr. Calm remains calm, and has an idea: he starts whistling a tune. Straight away all his friends calm down, and start whistling too. They also start enjoying the sights and sounds of the woods, and the morning walk is serene once again- until Mr. Noisy gets the hiccups!
List of characters
List of Other Appearances
Name in other languages
Monsieur Tranquille (French)
Trivia
He enjoys yoga, rock climbing, and going on walks.
He lives in

Treetop Cottage

, next door to Mr. Grumpy and Mr. Noisy, and across the road from Mr. Fussy.
He is the recent Mr. Men character to be created along with this book published.
Gallery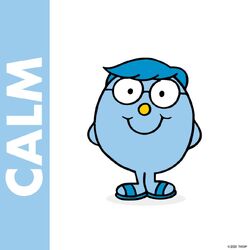 | | | |
| --- | --- | --- |
| V · T · E | Roger Hargreaves | |