Mr. Cheerful

Book No.

43

Release Date

1990

Preceded by

Followed by
Mr. Cheerful is the forty-third book in the Mr. Men series by Roger Hargreaves.
Story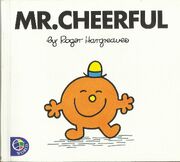 Never has Mr. Cheerful been without a smile. From breakfast in the morning to his bath at night. He was even happy when it rained! When he met Mr. Funny, he was so happy that he pulled off a funnier face than he usually does. One day, he runs into Little Miss Splendid who begins to smile, but then complains about Mr. Cheerful not raising his hat. For the first time in his life, Mr. Cheerful lost his smile - and blushed bright red. Miss Splendid finally talks him into raising his hat, showing the total of only three hairs on his head. Miss Splendid tells Mr. Cheerful that it is his big bright smile that everyone loves, not how many hairs he has on his head. So from that day on, Mr. Cheerful was once again, never without a smile. And everyone he passes leaves with a smile. There's only one thing left to say... hats off to Mr. Cheerful!
Voice Actors
Gordon Peters (1995-1997)
Len Carlson (1997-1999)
Trivia
Counterparts
See Counterparts Wiki.
International publications & translations
This is a list of alternate titles for this book being published internationally.
Monsieur Joyeux (French)
Mister Fröhlich (German)
Meneertje Blij (Dutch)
Ο Κύριος Κεφάτος (Greek)
Hr. Munter (Danish)
開心先生 (Taiwan)
ごきげんくん (Japanese)
List of characters
This is a list of Mr. Men, Little Miss and other special characters that appear in this book.
Mr Tickle
Mr Skinny
Mr Quiet
Mr Wrong
Mr Impossible
Mr Chatterbox
Little Miss Neat
Title character other appearances
A Job For Little Miss Giggles (TV)
A Very Happy Day For Mr. Happy (TV) (cameo)
Mr. Cheerful Doffs His Hat (TV)
Mr. Dizzy Promises The Moon (TV)
Mr. Nonsense's Strange Illness (TV) (cameo)
Little Miss Chatterbox Finds Her Calling (TV) (cameo)
Mr Brave goes Ghost-Hunting! (TV) (cameo)
Gallery
See also
External links
| | | |
| --- | --- | --- |
| V · T · E | Roger Hargreaves | |