Mr. Clumsy is the twenty-eighth book in the Mr. Men series by Roger Hargreaves.
About him
Colour: Dark Green
Shape: Oval
Gender: Male
Personality: Clownish, Foolish, Playful, Exaggerated, Uncoordinated, Disorganised, Bumbling, Confused, Ineffectual, Incompetent
Family: Mr. Fussy (cousin), 8 other cousins and an aunt.
Afflictions: Mr. Fussy (cousin), Little Miss Neat (Friend)
Occupation: He can't decide
Species: Shaped Human
Likes: Mr. Men and Little Misses
Dislikes: Getting over with something
Job: being clumsy
Voice Actors: Arthur Lowe (1975-1978), Gordon Peters (Mr. Men and Little Miss), Len Carlson (US dub)
Information
Mr. Clumsy is green with a yellow nose.
His hair and moustache are messed up.
He wears brown shoes, one is untied.
He lives in Australia.
He has 9 cousins, one of them is Mr. Fussy.
Story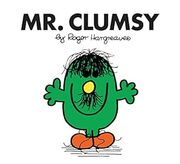 Mr. Clumsy always breaks things or knocking things over. When he goes shopping, instead of taking one can, he knocks over the whole stack. On a farm, he falls into a puddle and goes home to take a bath. He falls into a linen basket. He falls out of a chair when he eats dinner. he has an accident before he goes to bed.
International publications & translations
Mr. Clumsy appears under the titles
Monsieur Maladroit (French)
Don Desastre (Spanish)
Meneertje Onhandig (Dutch)
서툴러씨 (Korean)
呆呆先生 (Taiwan)
Ο Κύριος Αδέξιος (Greek)
Unser Herr Tolpatsch (German)
Hr. Hovsa (Danish)
ぶきようくん (Japanese)
Pan Gapa (Polish)
คุณเฟอะฟะ (Thai)
Title of other Appearances this Character Appears In
This is a list of other books that the title character has appeared in.
Trivia
In a Mario game called "Paper Mario: The Thousand-Year Door", Mr. Clumsy is referenced when Mario steps on an elderly Toad's contact lens. The Toad yells,"Compansate me, Mr. Clumsy!!!"
In Little Miss Fabulous' book, he had pink hair and then perfect hair like Mr. Fussy. In the same book he is the only Mr. Man who copies Little Miss Fabulous.
His title 'Clumsiest Person in the World' could suggest that he is even more accident-prone than Mr. Bump.
He is slightly more round than Mr. Fussy in Mr. Fussy's book.
He doesn't interact much with Mr. Fussy outside Mr. Fussy's book.
Counterparts
See Counterparts Wiki.
Gallery
See also
External links
| | | |
| --- | --- | --- |
| V · T · E | Roger Hargreaves | |
Community content is available under
CC-BY-SA
unless otherwise noted.