Mr. Cool is the forty-fourth book in the Mr. Men series by Roger Hargreaves and the first one created by Adam Hargreaves.
Story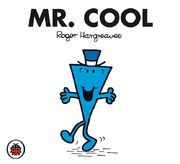 Mr. Cool is the coolest person in the world. When Jack Robinson is ill and bored in bed, Mr. Cool appeared and snapped his fingers, everything happens to make Jack fun. At the end, Jack's spots are disappeared during a long long long long slide down the Mount Everest. Eventually, Mr. Cool and Jack head on home and Mr. Cool tells Jack there is a surprise for him. And that is the fact that he has no more spots!
International publications & translations
This is a list of alternate titles for this book being published internationally.
Monsieur Génial (French)
Mister Cool (German)
かっこいいくん (Japanese)
Ο κύριος Καταπληκτικός (Greek)
Hr. Sej (Danish)
Senhor Fixe (Portuguese)
Mr. Guay (Spanish)
Pan Fajny (Polish)
คุณสุดยอด (Thai)
Herra Æðislegur (Icelandic)
Trivia
Mr. Cool has never met any of the other Mr. Men and Little Misses. He shares this trait with Mr. Good.
Counterparts
See Counterparts Wiki.
List of characters
This is a list of Mr. Men, Little Miss and other special characters that appear in this book.
Picture Only
Title character other appearances
Gallery
See also
External links
| | | |
| --- | --- | --- |
| V · T · E | Roger Hargreaves | |