Mr. Crosspatch/Monsieur Bagarreur is a Mr. Men released in France.
Story
Mr. Crosspatch/Monsieur Bagarreur is a violent and aggresive sociopath. He always wants to get into a fight with anyone or anything. Mr. Crosspatch/Monsieur Bagarreur is as strong as Mr. Strong, but is less friendly. His house is fallen apart because he runs into it like a bull. On a walk, he talks to four daisies about his unimportant urge to fight. Later, he runs into a chestnut-selling worm. The worm asks him what chestnuts he would like, but Mr. Crosspatch says to the worm: "one more word out of you, and I'll twist your neck." He nearly fights with the worm, only to find that it already went back into its hole. Later on, he meets Mr. Strong carrying a basket of eggs. Mr. Crosspatch tries to be nice and asks Mr. Strong if he needs help carrying the basket, but Mr. Strong replies with: "That's very kind of you, but I am afraid which you are not enough." This makes Mr. Crosspatch angry, and he charges at Mr. Strong, only to get terribly hurt. Little Miss Careful tries to pick him up, but Mr. Crosspatch refuses. The book tricks the reader into thinking that Mr. Crosspatch is going to charge at Miss Careful, but Mr. Crosspatch charges at the tree because of the fact that a Mr. Men cannot fight with the Little Misses. Wilfred Wizard falls out of the tree and gave Mr. Crosspatch a council. Not too long later, Mr. Dizzy comes with a green ball, but being the dizzy fellow he is, he thinks that it is blue. Mr. Crosspatch and Mr. Dizzy argue about what color the ball is. Mr. Crosspatch remembers Wilfred Wizard's councils, so he stands in front of the ball, performs the councils, and gives the ball a very hard kick.
International publications & translations
Mr. Crosspatch appears under the titles
Monsieur Bagarreur (French)
Ο κύριος Καβγατζής (Greek)
List of characters
Title character other appearances
Mr. Men and Little Miss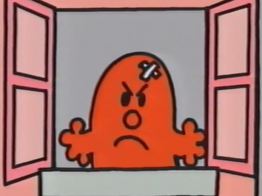 Note: This character has not spoken. Therefore, he does not have any lines.
Little Miss Trouble and the Magic Paint (blue)
Mr. Chatterbox and the Parrot (blue)
About Him
Gender: Male
Colour: Scarlet
Relatives: None
Job: Being aggresive, violent, bullying and wanting to get into a fight.
Release date: July 17, 1992
Counterparts
See Counterparts Wiki.
Trivia
He is the 11th book in the Mr Men French library, placed inbetween Mr Daydream and Mr Worry who are the 10th and 12th in the Mr Men French Library.
Gallery
See also
External links
| | | |
| --- | --- | --- |
| V · T · E | Roger Hargreaves | |
Community content is available under
CC-BY-SA
unless otherwise noted.