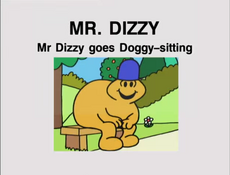 Mr. Dizzy Goes Doggy Sitting is the 2nd episode of the second season of Mr. Men and Little Miss. It was first broadcast on 23 January, 1996.
Plot
Mr. Clever has to run an errand and asks Mr. Dizzy to look after his dog, Rex, who is every bit as intelligent as his master. Off go our two friends for a walk. But poor Mr. Dizzy is not very quick and always falls prey to the nasty jokes played by Mr. Uppity and Little Miss Trouble. But this time, the tables will be turned and, thanks to the help of Rex, the dreadful duo will be caught at their own game.
Characters
UK Voices
US Voices
Len Carlson: Mr. Uppity, Mr. Dizzy, Mr. Clever, Rex
Alyson Court: Little Miss Trouble
Ron Rubin: Narrator
Community content is available under
CC-BY-SA
unless otherwise noted.