Mr. Forgetful

Book No.

14 (UK and US)
39 (France)

Release date

19 January, 1976

Preceded by

Followed by
Mr. Forgetful is the fourteenth book in the Mr. Men series by Roger Hargreaves.
About him
Colour: Dark blue (light purple in MAD)
Shape: Oval
Gender: Male
Personality: Absent minded, Inattentive, Head in the clouds, Daydreamer, Distracted
Family: None
Friends: Little Miss Wise, Little Miss Scatterbrain, Mr Lazy, Mr Dizzy, and Little Miss Tidy.
Rivals: Some of the characters
Job: being forgetful and having a short memory
Voice Actors: Arthur Lowe (1975-1978), Gordon Peters (Mr. Men and Little Miss), Ron Rubin (US dub), Jason Marsden (MAD)
Story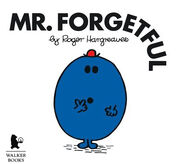 Mr. Forgetful has a short memory. One day he has to remember a message for Farmer Fields to say that there's a sheep loose in the lane. Can he remember the message? Sadly, no. Instead, he says, "There's a goose asleep in the rain."
International publications & translations
This is a list of alternate titles for this book being published internationally.
Monsieur Étourdi (French)
Don Memorion (European Spanish)
Sr. Olvidadizo (Latin Spanish)
Unser Herr Vergesslich (German)
Meneer Vergeetal (Dutch)
健忘先生 (Taiwan)
잊어씨 (Korean)
Ο Κύριος Ξεχασιάρης (Greek)
Bay Unutkan (Turkish)
Fætter Glemsom (Danish)
מר שכיחא (First Hebrew Realese)
מר שכחן (Second Hebrew Realsese)
Senhor Esquecido (Portuguese)
わすれんぼうくん (Japanese)
Herr Glemsk (Second Danish release)
Pan Zapominalski (Polish)
คุณหลงลืม (Thai)
List of characters
This is a list of Mr. Men, Little Miss and other special characters that appear in this book.
The Policeman
Mrs. Parcel
The Sheep
Pictures only
Trivia
In the US version of Mr. Men and Little Miss, he sounds like John Gegenhuber.
In Mr. Forgetful...Hey, Waiter!, he called Little Miss Wise Little Miss Dotty and Little Miss Giggles by mistake.
He doesn't even know his name.
He has made an appearance on Cartoon Network's MAD in the "Cowboys & Alien Force" sketch. His body shape is the same, but is the same colour as Mr. Impossible, and he has a different hat. He was shown talking to Jake about forgetting the title before Jon Favreau snatched him. Here, he was voiced by American voice actor Jason Marsden.
In Bingo No, his hat was shown twisting around the world. Geography!
In the intro of his 1975 cartoon, his hat is yellow instead of red.
He made an appearance in a Biotene commercial.
According to the website, Mr. Forgetful is surprisingly a good swimmer.
He prefers to have his eggs runny as opposed to hard-boiled.
Counterparts
See Counterparts Wiki.
Title character other appearances
This is a list of Mr. Men, Little Miss and other special characters that appear in this book.
Books
Television
Gallery
Mr. Men and Little Miss Screenshots
Miscellaneous Screenshots
External links
| | | |
| --- | --- | --- |
| V · T · E | Roger Hargreaves | |