'Sweet apple strudel! (UK) /Sweet Henrietta! (US)'
— Mr. Fussy/Pernickety/Persnickety
Mr. Fussy (Mr. Pernickety/Persnickety in the first season of The Mr. Men Show) is the twenty-first book in the Mr. Men series by Roger Hargreaves.
About him
Colour: Dark Green/Light Green
Shape: Oval
Gender: Male
Personality: Careful, Cautious, Picky, Choosy, Particular, Fusspot
Hair: Green
Family: Mr. Clumsy (cousin) and 8 siblings
Rivals: Mr. Messy (sometimes), Mr. Rude, Little Miss Naughty, Little Miss Scary, Little Miss Magic (sometimes), Mr. Noisy, Mr. Clumsy
Friends: Little Miss Sunshine, Little Miss Neat, Little Miss Helpful, Mr. Happy, Mr. Messy (sometimes), Little Miss Trouble,
Height: About 6 and a half feet tall
Weight: Average
Job: He is fussy and clean and doesn't like messy things
Features: Toothbrush moustache, orange shoes (formerly red) (original version), handlebar moustache, glasses, black bow tie, and brown sneakers (2008 version)
Nationality: British (US), German (UK)
Voice Actors: Arthur Lowe (1975-1978), Gordon Peters (Mr. Men and Little Miss, UK), Len Carlson (Mr. Men and Little Miss, US dub), Joey D'Auria (The Mr. Men Show, US), Rob Rackstraw (The Mr. Men Show, UK dub)
Catchphrases: "Sweet apple strudel!/Sweet Henrietta!" and "How revolting."
Story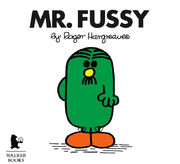 Mr. Fussy is a perfectionist. He wouldn't tolerate anything imperfect. Mr. Fussy keeps his hair combed, his mustache trimmed, his shoelaces tied and his house neat.
One evening, he is working when his cousin (from Australia), Mr. Clumsy, comes to visit. He causes chaos and at the end of his stay, everything of the house is disastrous. However, things just get worse for Mr. Fussy when Mr. Bump visits.
The Mr. Men Show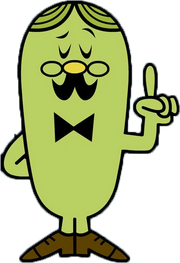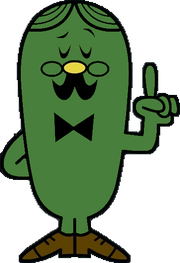 In The Mr. Men Show, he retains his yellow nose and neatly combed hair (Though it has a darker color) but is renamed Mr. Persnickety in the US broadcast and Mr. Pernickety in the UK broadcast. He now has a black bow tie, reading glasses, brown shoes, a more neatly waxed mustache that looks like a Luigi mustache, and a lime-green colored body. He lives next door to Mr. Messy in a duplex-style house. He and Mr. Messy often are at odds.
In Season 2, he retains his same looks but is darker green and his name is changed back to Mr. Fussy. His hair is deceptively the same, but it's actually now black and stringy. He thinks Little Miss Magic's popping out of nowhere is rude.
In Physical, Mr. Persnickety was a judge in the Olympic-like sport and along with the other judges, failed everyone except Mr. Strong. He later participated in the relay race. Mr. Persnickety was the last runner on orange team, but despite his early start, Mr. Quiet overtook him. Luckily, the skunk that Mr. Quiet was carrying released its stink allowing Mr. Persnickety to win.
Trivia
Book Trivia
In some earlier prints of Mr. Fussy, his shoes are red instead of orange.
In Mr. Mischief's book, he was seen without half of his mustache (Mr. Mischief cut one half off).
He's the first Mr. Man with hair.
His cousin is Mr. Clumsy.
According to a German audio tape known as Herr Glücklich Und Seine Freunde 4, he is called Otto Ordetlich.
According to a Mr. Men treasury released in 2015, Roger Hargreaves based him on his fussy young daughter, Amelia, who hated bits in her marmalade and liked things to be just so!
In his prototype design, Mr. Fussy wore a brown tweed vest. He is seen wearing it in the pinball game and the show's coloring page.
In "Home Improvement" when he and Mr. Messy were attacking each other with Little Miss Magic's paint wand, he briefly changes into his light green color scheme from the first season.

Additionally, he is shown in that color scheme in a group shot in "Cinema" as an error, but is quickly fixed afterward.

In early storyboards, when Mr. Fussy goes swimming, he wears a yellow-striped swimsuit.
While one of his catchphrases is "Sweet Henrietta," it is changed to "Sweet Apple Strudel" in the UK version where he has a German accent.
In "Beach", Mr. Fussy (Persnickety's) feet are regular like the other Mr. Men and Little Misses, but in "Shoes", they are pointed.
In "Beach", it's revealed that Mr. Persnickety has many bow ties at his home.
His mouth can be shown when his moustache lifts up. (Amusement Park, Fair, Birds, Inventions, Trains, Beach).
His frightened eyes are seen in 3 episodes in season 1 (Amusement Park, Fair, Beach).
He is a talented piano player, as shown in "Sleep" and "Telephone". Mr. Rude rudely interrupts his concerts, though.
He is one of the three characters to wear glasses, the others being Mr. Nervous and Little Miss Whoops.
He is one of the three characters with some sort of tie, the others are Mr. Nosey and Mr. Funny.
According to director Mark Risley, Mr. Fussy's voice was modeled after actor Gale Gordon.
In Library, he became scribble shaped like Mr. Messy at the very end.
The reason for his initial name change before being reverted was, according to Eryk Casemiro, "it sounded more alliterative".
According to Mark Risley, the reason Mr. Per(s)nickety was changed back into Mr. Fussy was because Chorion didn't like it.
Miscellaneous
Counterparts
See Counterparts Wiki.
International publications & translations
Mr. Fussy appears under the titles:
Monsieur Tatillon (French)
Unser Herr Ordentlich (German, 1981)
Mister Pingelig (German, 2010)
Meneer Precies (Dutch)
מר טרחן (First Hebrew Release)
מר קפדן (Second Hebrew Release)
Don Todoensulugar (Mexican Spanish)
Don Pulcro (Castilian Spanish)
挑剔先生 (Taiwan/China)
Herra Nostri (Icelandic)
Ο Κύριος Επιμελής (Greek, 1994)
Ο Κύριος Ιδιότροπου (Greek, 1996)
آقای وسواسی (Persian, Avae Andisheh)
آقای وسواسی‌ خان (Persian, Panosht)
آقا وسواسی (Persian, Ghadiyani)
Мистер Чистюля (Russian)
꼼꼼씨 (Korean)
Hr. Pernittengryn (Danish)
Herr Pirkete (Norwegian)
こうるさくん (Japanese)
Pan Czepialski (Polish)
List of characters
This is a list of Mr. Men, Little Miss and other special characters that appear in this book.
Mr. Clumsy (he appears in this book before his own)
Mr. Bump (mentioned only seen in TV version of story)
Title character other appearances
This is a list of other books that the title character has appeared in.
Gallery
External links
| | | |
| --- | --- | --- |
| V · T · E | Roger Hargreaves | |