Mr. Grumble

Book No.

41

Release Date

9 May 1990

Preceded by

Followed by
Mr. Grumble is the forty-first book in the Mr. Men series by Roger Hargreaves.
Story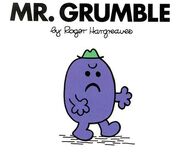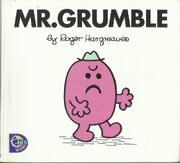 Mr. Grumble complains about everything - The start of a new day, the countryside and even parties. One day he met the wizard both at his afternoon walk and Little Miss Fun's party, and the grumbling person was turned into a pig, which made everyone laugh at the party, after he learnt his lesson, he wasn't grumbling anymore, he was smiling!
International publications & translations
Mr. Grumble appears under the titles
Monsieur Grognon (French)
Mister Motz (German)
Ο Κύριος Γκρινιάρης (Greek)
Hr. Vrissen (Danish)
Herra Önugur (Icelandic)
ぶつぶつもんくくん (Japanese)
Senhor Reclamão (Portuguese)
Meneer Zeur (Dutch)
Pan Gderek (Polish)
คุณพึมพำ (Thai)
Voice Actors
List Of Characters
This is a list of Mr. Men, Little Miss and other special characters that appear in this book.
Pictures Only
Trivia
He is good friends with Mr. Grumpy.
In the US Dub of Mr. Men and Little Miss he has a New Jersey accent.
Counterparts
See Counterparts Wiki.
Gallery
Miscellaneous
Title Characters Other Appearances
Here is a list of other books he appears in.
Mr. Impossible's Lesson (TV)(cameo)
Mr. Grumble's Holiday (TV)
Mr. Clever's Invention (TV)
Little Miss Wise's Day Out at the Fun Fair (TV)
Mr. Chatterbox and the Parrot (TV)(cameo)
Mr. Skinny is up the Spout (TV)
Mr. Noisy, the Music Man (TV)(cameo)
Mr. Lazy Takes an Afternoon Nap (TV)
The Christmas letter (cameo)
See also
External links
| | | |
| --- | --- | --- |
| V · T · E | Roger Hargreaves | |
Community content is available under
CC-BY-SA
unless otherwise noted.