Mr. Grumble is the forty-first book in the Mr. Men series by Roger Hargreaves. He was created by two writers, Viviane Cohen and Evelyne Lallemand and an illustrator, Colette David.
Story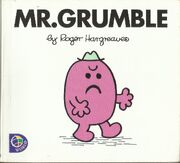 Mr. Grumble complains about everything - The start of a new day, the countryside and even parties. One day he met the wizard both at his afternoon walk and Little Miss Fun's party, and the grumbling person was turned into a pig, which made everyone laugh at the party. After he learnt his lesson, he wasn't grumbling anymore, he was smiling!
International publications & translations
Mr. Grumble appears under the titles
Monsieur Grognon (French)
Mister Motz (German)
Ο Κύριος Γκρινιάρης (Greek)
Hr. Vrissen (Danish)
Herra Önugur (Icelandic)
ぶつぶつもんくくん (Japanese)
Senhor Reclamão (Portuguese)
Meneer Zeur (Dutch)
Pan Gderek (Polish)
คุณพึมพำ (Thai)
מר מקטר (Hebrew)
Voice Actors
List Of Characters
This is a list of Mr. Men, Little Miss and other special characters that appear in this book.
Pictures Only
Trivia
He is good friends with Mr. Grumpy.
In the US dub of Mr. Men and Little Miss, he has a New Jersey accent. In the UK dub, he had a Yorkshire accent.
Out of the Seven Deadly Sins, Mr. Grumble represents Wrath.
Mr. Bump seems to like Mr. Grumble though Mr. Grumble doesn't like him. This is because when Mr. Bump is around Mr. Grumble, he claims his luck isn't so bad. This is proven in Mr. Grumble's Holiday. However, it is unknown if this is true because this never happened again.
He originated from France.
Counterparts
See Counterparts Wiki.
Other Appearances
Here is a list of other books he appears in.
Gallery
Mr. Men and Little Miss Screenshots
Miscellaneous
See also
External links
| | | |
| --- | --- | --- |
| V · T · E | Roger Hargreaves | |