Mr. Grumble's Holiday is the 28th episode of the third season of Mr. Men and Little Miss. It was first broadcast on 3 September, 1997.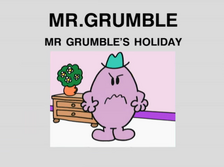 Plot
Mr. Grumble is going on holiday. He has every reason to be happy but, as usual, he grumbles! He grumbles throughout his entire holiday at the seaside. The presence of Mr. Bump only makes his holiday worse.
Upon returning home, Mr. Grumble expects to find a bit of peace at last, but Little Miss Neat pops around to give him some raspberries to cheer him up. But as one might well imagine, Mr. Grumble hates raspberries!
Characters
UK Voices
US Voices
Alyson Court - Little Miss Sunshine
Neil Crone - Mr. Grumble, Mr. Bump
Catherine Disher - Little Miss Neat
Ron Rubin - The Narrator
Errors
Mr. Grumble's skates were shown as being a light purple colour when attached to his bag, but were a red color later on when he was wearing them.
Gallery
Template:Mr. Men and Little Miss Episodes