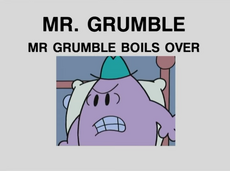 Mr. Grumble Boils Over is the 35th and final episode of the second season of Mr. Men and Little Miss. It was first broadcast on 31 March, 1996.
Plot
It is the middle of summer, and all the Mr. Men and Little Misses are on holiday, except for Mr. Grumble and Mr. Worry. But Mr. Worry is too worried to stay alone. So he decides to seek comfort with Mr. Grumble, which isn't a good idea at all, since Mr. Grumble hates surprise visits. Can Mr. Worry put up with Mr. Grumble?
Characters
Gallery
Trivia
This is the only episode not to feature any female characters, Jill Shilling didn't appear to voice any of them.
Community content is available under
CC-BY-SA
unless otherwise noted.