'Wonderful!'
— Mr. Happy, The Mr. Men Show
Mr. Happy is the third book in the Mr. Men series by Roger Hargreaves.
The character of Mr. Happy is perhaps the most simple-looking, merely being a bright-yellow circle with a wide smile, similar to the iconic smiley-face. He is numbered as three, although was originally numbered as ten. He lives in Happyland.
About him
Colour: Yellow
Shape: Round
Gender: Male
Personality: Merry, positive, cheerful, lively, joyful, pleasured, nice, jolly, smiley, pleased, kind, friendly, amused, upbeat
Hair: None
Family: None
Height: Normal Mr. Man height
Weight: Average
Friends: Most of the other Mr. Men and Little Miss
Rivals: Mr. Rude, Mr. Slow, Mr. Mean, Mr. Grumble, Little Miss Bossy, Little Miss Helpful, Mr. Stubborn, Little Miss Scary, Aliens
Hometown: Happyland
Occupation: Host of Good Morning Dillydale, game show host
Likes: Happiness, sunshine, love, Misterland
Dislikes: Darkness, sadness, hate, Mr. Stubborn's lies
Job: Being happy, making others happy
Features: None
Feelings: Very happy
Position in Mr. Grumpy's band: Accordion, marimba phone
Voice Actors: Arthur Lowe (1975-1978), John Alderton (1983), Gordon Peters (Mr. Men and Little Miss, UK), Ron Rubin (Mr. Men and Little Miss, US), Sam Gold (The Mr. Men Show, US), Simon Greenall (The Mr. Men Show, UK S1), Rob Rackstraw (The Mr. Men Show, UK S2), Keiko Toda (The Mr. Men Show, Japan)
Story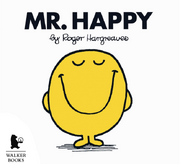 Mr. Happy has quite a simplistic story, just like most of the other characters.
The actual story starts with him going for a walk in Happyland, when he discovers a small door at the bottom of a tree trunk. He then goes through the door, and down a small staircase, where he finds a room at the bottom. Inside the room, Mr. Miserable resides there, who looks exactly like Mr. Happy, except with a big frown instead of a big smile. Mr. Happy takes Mr. Miserable out with him and invites him to stay in Happyland for a while.
Overtime, Mr. Miserable starts becoming less sad and more happy, when he eventually becomes just as happy as Mr. Happy, and laughing a lot with him. The story ends with a message to tell the reader that if they are ever sad, to simply turn up the corners of their mouth.
The Mr. Men Show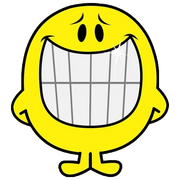 In the 2008 TV series The Mr. Men Show, Mr. Happy looks exactly the same as he did in the books. He kept his yellow colour, but his limbs are slightly smaller, he has a less circular body and is occasionally shown to have visible eyebrows. He co-hosts a morning show called Good Morning Dillydale as well as a game show called What Do You Know About Music? with Little Miss Sunshine. He lives next door to Mr. Grumpy, whom he has a sitcom-like neighbourly relationship with, as seen in "Chores" and "Next Door". He likes music; especially polka, as shown in "Boats" and "Radio". His catchphrase is "Wonderful!", because he is shown to keep smiling and never getting sad. On the Cartoon Network website, it was stated that a lot of people find Mr. Happy's "constant glee" upsetting and annoying.
In the US version, he is voiced by Sam Gold, who portrays him with a voice similar to that of a game show host, and in the UK version, he is voiced by Simon Greenall in Season 1, and Rob Rackstraw in Season 2.
Trivia
General/book
He seems to be prone to depression, as shown in books like "Mr. Nobody" and "Little Miss Magic" and in the episode of Mr. Men and Little Miss, "A Very Happy Day for Mr. Happy", where he was depressed for days, (though those reasons above were because other people were unhappy).
In the book "Mr. Men - A Christmas Carol", he was clinically depressed for a whole year!
He was also sad in the 2003 PC video game The Adventures of Mr. Greedy, but this time, the other characters turned into their opposite personalities.
On the

8 October

2010, Mr. Happy was chosen for an advertising campaign for Specsavers. The first ad starts off with Mr. Happy not happy with missing a Specsavers offer, so then the narrator ask him what would make him happy. Along the way he develops a Mr. Grumpy-like attitude: splashing a cream cake in Mr. Greedy's face, throwing a dustbin on Mr. Messy, tying Mr. Tickle's arms into a giant knot, and pulling off Mr. Bump's lower bandages. After this the narrator tells him that he should have gone to Specsavers, to which Mr. Happy blows a raspberry at him.
His portrait appears in the Hippo, Potto and Mouse book Potto Finds a Job, which is another Roger Hargreaves book series.
Mr. Happy also appeared in a commercial for SUBWAY, along with Little Miss Sparkle, Mr. Cool, Mr. Noisy, and Little Miss Fun.
According to a Mr. Men treasury released in 2015, Adam Hargreaves finds him the hardest character to draw. He says, "Even though he is the simplest, I find Mr. Happy the most difficult. There are less breaks in the outline so I have to draw a longer perfect circular line to get him right. I sort of work from the outside inwards, always starting at the top, with the hat if they had one, and then draw the outline leaving gaps for the arms and legs and their face and expression come last".
In the Mr. Men Show, he says to love beans (Canned Goods), but in the "Mr. Men A Christmas Carol" book, he does not like beans. Beans are a sort of food-standard in Dillydale.
The Mr. Men Show
Counterparts
See Counterparts Wiki.
International publications & translations
This is a list of alternative titles for this book being published internationally.
Monsieur Heureux (French)
Unser Herr Glücklich (German)
Mr. Hapus (Welsh)
Fætter Glad (Danish)
Herr Lykkelig (Norwegian)
Gubben Lycklig (Swedish)
Meneer Blij (First Dutch Release)
Meneertje Vrolijk (Second Dutch Release)
Meneertje Blij (Third Dutch Release)
מר שמח (Mar Sameackh; Hebrew)
Don Feliz (Castilian Spanish)
Don Contentón (Mexican Spanish)
Ο Κύριος Ευτύχιος (Greek, 1988)
Ο Κύριος Χαρούμενος (Greek, 1994)
快樂先生 (Taiwan)
Herra Sæll (Icelandic)
Mali Srečko (Slovenian)
행복씨 (Korean)
Mr. Boldog (Hungarian)
愉快先生 (Cantonese in Mr. Men and Little Miss)
開心先生 (Cantonese in The Mr. Men Show)
آقا کوچولوی شاد (Persian, Gohar Danesh)
آقای خوشحال (Persian, Avae Andisheh)
خوشحال آقا (Persian, Ghadyani)
السيد سعيد (Alsayyed Saeid; Arabic)
Mister Sorriso (Italian)
Пан Счастливкин (Pan Schastlivkin; Russian, 2004)
Мистер Весельчак (Mister Vesel'chak; Russian in The Mr. Men Show)
ハッピーくん (Happy-kun; Japanese)
Senhor Feliz (Portuguese)
Господин Весељко (Gospodin Veseljko; Serbian)
Mr. Sásta (Irish)
Domnul Fericit (Romanian)
快乐先生 (China)
คุณแสนสุข (Thai)
Pan Radosny (Polish)
Bay Mutlu (Turkish)
Mr. Feliç (Catalan)
List of characters
This is a list of Mr. Men, Little Miss and other special characters that appear in this book.
Title character in other appearances
Mr. Happy probably appeared in more other Mr. Men and Little Miss stories than any other character. He is seen in:
Gallery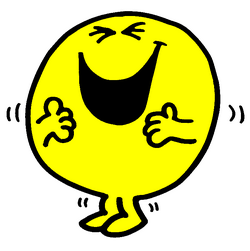 External links
| | | |
| --- | --- | --- |
| V · T · E | Roger Hargreaves | |