Mr. Jelly

Book No.

15 (UK and US)
30 (France)

Release date

January 19, 1976

Preceded by

Followed by
Mr. Jelly (Mr. Nervous in the US and The Mr. Men Show) is the fifteenth book in the Mr. Men series by Roger Hargreaves.
About him
Color: Fuchsia (book), Purple (The Mr. Men Show)
Shape: Jelly shape (book), Egg shape (The Mr. Men Show)
Gender: Male
Personality: Wobbly, Uneven, Unbalanced, Inconsistent, Irregular, Unequal, Unsteady, Apprehensive, Shaky, Scared
Hair: None
Family: None
Friends: Mr. Noisy, Mr. Grumpy, Little Miss Sunshine, Mr. Fussy, Mr. Quiet, Little Miss Whoops, Little Miss Scary (one-sided), Mr. Busy, Little Miss Fun, Little Miss Calamity, Little Miss Tiny, Mr. Small
Height: About 5 inches tall (book), Normal Mr. Men Size (The Mr. Men Show)
Weight: Below Average
Rivals: Mr. Rude, Little Miss Naughty, Little Miss Bossy, Little Miss Scary (one-sided)
Occupation: Worrier guy
Species: Shaped Human
Likes: Anything that is not scary, cute things.
Dislikes: being scared, Little Miss Bossy, scary things, parties, wild animals, gnomes, Little Miss Scary (one-sided).
Job: being scared, nervous and wobbly like jelly
Voice Actors: Arthur Lowe (1975-1978), Gordon Peters (Mr. Men and Little Miss), Neil Crone (US dub), Rick Zieff (credited as Danny Katiana) (The Mr. Men Show), Tim Whitnall (UK dub)
Catchphrases: "Bulululululululululu!!!" (book and Mr. Men and Little Miss) "Oh no no no no!", "Whoa Nelly!", and "This is the end!" (The Mr. Men Show)
Nationality: Canadian (US), English (UK)
Story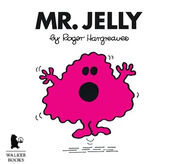 Mr. Jelly has panophobia, a phobia of everything and anything, such as the snapping of a twig, a sound of his cereals or a small worm. He often hides under the covers. One day, he finds a tramp sleeping in the field near the woods, whom he is afraid of, until the tramp teaches him to count to ten if he feels nervous. This makes Mr. Jelly a calm fellow and he rarely hides under the covers now.
Mr. Jelly's nervousness is understandable given that he is only a few inches tall - small enough for the tramp to hold in his hand. Most other Mr. Men/Little Miss characters (excepting Mr. Bounce, Mr. Small, and Little Miss Tiny) are roughly the same size as ordinary humans. He is very light too. He is afraid of all the sounds (including his cereals).
Characters who appeared in this book
The Mr. Men Show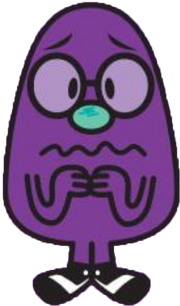 In The Mr. Men Show, Mr. Jelly (now renamed Mr. Nervous in both the US and UK broadcasts) has been given an egg shaped body, purple skin, round glasses, a light blue nose and black and white sneakers.
Mr. Nervous often daydreams and ends up going on wacky adventures. In most episodes, he's shy around Little Miss Scary, Little Miss Chatterbox, and Mr. Rude. His only friends are Little Miss Sunshine, Mr. Grumpy, Mr. Noisy and some other characters. He lives in a lighthouse next to Little Miss Scary with a large searchlight and it has many door locks on the inside of his front door. His catchphrases are "Oh, no, no, no!", "Whoa, Nelly!" and "This is the end!".
He is voiced by Rick Zieff (credited as Danny Katiana) in the US version and Tim Whitnall in the UK dub.
Trivia
Classic
The Mr. Men Show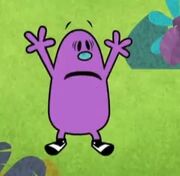 He is one of the two characters to be shown with human toes (as seen in "Eyeglasses"). The other is Mr. Messy.
He is one of the three characters to wear glasses, the others being Little Miss Whoops and Mr. Fussy.
He is seen without his glasses in "Yard Work" and "Eyeglasses".
He replaced Mr. Quiet as Little Miss Daredevil's guinea pig in Season 2.
The only time he was angry was in Dance when he was yelling at Mr. Rude.
According to Food, radishes give Mr. Nervous terrible gas (changed to "tummy aches" in the dub).
Counterparts
See Counterparts Wiki.
International publications & translations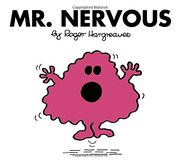 This is a list of alternate titles for this book being published internationally.
Mr. Nervous (USA)
Monsieur Peureux (French)
Monsieur Nerveux (French in The Mr. Men Show)
Don Miedica (Spanish)
Unser Herr Angsthase (German)
Mister Schlotter (Second German Release)
Meneer Doodsbenauwd (Dutch)
Senhor Nervoso (Portuguese)
Ο Κύριος Φοβητσιάρης (Greek)
Hr. Sky (Danish)
Herr Nervøs (Norwegian)
Pan Galareta (Polish)
Мистер Трус (Russian)
緊張先生 (Taiwan)
ブルブルくん (Japanese)
겁쟁이씨 (Korean)
מר שקשוק (Hebrew)
คุณตื่นตูม (Thai)
List of characters
This is a list of Mr. Men, Little Miss and other special characters that appear in this book.
Tramp
Mr. Bump (pictured on a lamp on TV)
Title character other appearances
This is a list of other books that the title character has appeared in.
Books
Television
Gallery
Artwork from the Mr. Men Show
Screenshots
Miscellaneous
See also
External links
| | | |
| --- | --- | --- |
| V · T · E | Roger Hargreaves | |
Community content is available under
CC-BY-SA
unless otherwise noted.