Mr. Marvelous

Book No.

48 (UK)
49 (US and Canada)
50 (France)

Release Date

26 July 2016

Preceded by

Followed by
Mr. Marvelous is the forty-eighth book in the Mr. Men series by Roger Hargreaves and the fifth one created by Adam Hargreaves. It was released on July 26, 2016.
Story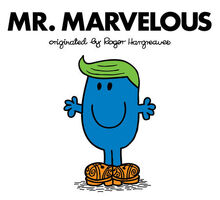 Mr. Marvelous can do marvellous things, such as outrunning Mr. Rush in his car, changing colour, shape-shifting, and many other things! But when Little Miss Naughty proves to be a real challenge, he tries to be more naughty than her! It is a very hard task, so Mr. Marvelous calls for Mr. Mischief's help.
List of characters
This is a list of characters who appear in this book.
Trivia
This is the only book that he is angry in.
The American spelling of "marvelous" remains consistent in all English-language versions of this story, however a prototype image with the British spelling "marvellous" exists.
He spends half an hour on his hair every morning.
Counterparts
See Counterparts Wiki.
International publications & translations
This is a list of alternate titles for this book being published internationally.
Monsieur Formidable (French)
Mr. Maravilloso (Spanish)
Ο κύριος Θαυμάσιος (Greek)
奇迹先生 (Qíjī xiānshēng; Chinese)
Gallery
See also
External links
| | | |
| --- | --- | --- |
| V · T · E | Roger Hargreaves | |