"Shazam!"
— Mr. Messy, The Mr. Men Show
Mr. Messy

Book No.

8 (UK and US)
22 (France)

Release Date

15 August 1972

Preceded by

Followed by
Mr. Messy is the eighth book in the Mr. Men series by Roger Hargreaves.
About him
Colour: Hot pink
Shape: Scribble, fuzzball (books and The Mr. Men Show), round (when he's clean), semicircle (book when he's clean)
Gender: Male
Personality: Careless, Inattentive, Chaotic, Confused, Disorderly, Sloppy, Unsystematic, Overly Casual, Untidy, Dirty
Family: None
Friends: Little Miss Sunshine, Little Miss Bossy, Mr. Fussy (one-sided)
Height: Normal Mr. Men height
Weight: Average
Rivals: Mr. Fussy (one-sided), Little Miss Neat, Little Miss Tidy, Little Miss Naughty (After she cleaned him up in the episode "Library") & Little Miss Scary (after she scared him in "Bath & Bubbles")
Occupation: Artist, host of Shazam, That's Good!
Species: Shaped Human
Likes: Messy things, pizza (The Mr. Men Show)
Dislikes: Being cleaned
Job: being messy and dirty
Features: Shoes (2008 version)
Nationality: Liverpudlian (UK) Brooklyn-American (US).
Voice Actors: Arthur Lowe (1975-1978), Gordon Peters (Mr. Men and Little Miss), Neil Crone (US dub), Peter Rida Michail (The Mr. Men Show), Rob Rackstraw (UK dub)
Catchphrases: "Shazam!", "That's what I'm talkin' about" and "Messy, not dressy!" (in the website)
Story
Mr. Messy was always messy, he leaves messy fingerprints wherever he goes. He lives in a house with broken windows, paint that is peeling off, missing tiles from the roof, and a dirty garden. His routine was leaving everything dirty as well. One day he finds a neat and pretty-looking house with a lovely garden and a stream running through the middle of it. He met two people who live in the house - Mr. Tidy and Mr. Neat. They go to Mr. Messy's house to tidy it up and make it look nice and tidy. After they cleaned the house and its garden, they gave the owner a bath and removed the scribbles from him. He looked clean afterwards, and thinks he has to change his name.
The Mr. Men Show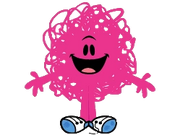 In the 2008 TV series The Mr. Men Show, Mr. Messy is given blue and white sneakers (similar to Little Miss Chatterbox's, only with patches of dirt on the toes and one of them is untied) and he has a unibrow now, and his limbs are also made solid, instead of scribbled like they were originally. In the episode Library, Mr. Messy became a full circle like in his story, but he retains his solid limbs and gains a curl on the top of his head.
Mr. Messy is even messier than in the books, living like a complete slob and eating out of the garbage. He seems to have ablutophobia, the fear of being clean, although he is okay with brushing his teeth. He lives next door to Mr. Fussy in a duplex-style house. He also owns a pizzeria and hosts a show on Dillydale F.M. called Shazam, That's Good! where the Mr. Men and Little Misses show music videos. His catchphrases are "Shazam!" (similar to Emeril Lagasse's "Bam!"), "That's what I'm talkin' about!", and "Messy, not Dressy!" (heard on the official website). He is quite good at rapping.
Mr. Messy's accent in the UK is Liverpudlian, and African-American in the U.S. In the U.S. version, he is voiced by Peter Rida Michail, who is also the show's production designer.
Trivia
General/book trivia
The Mr. Men Show trivia
Mr. Messy has the largest amounts of songs of the show's cast.
Mr. Messy seemingly has ablutophobia, the fear of being clean.
He gets extra messy when he's scared. (The Dark)
It is revealed in "Clean Teeth" that dental hygiene is the only form of cleanliness he accepts.
He is allergic to neckties as revealed in "Sneezes and Hiccups".
His favourite foods are pizza, spaghetti, sandwiches, and sock cheese.

He will eat anything but tomatoes and potatoes.
In "Cooking", he said he would never eat a snail, but he will accept a banana slug on occasion.

He is one of the only two Mr. Men to have human toes on his feet. The other is Mr. Nervous.
Counterparts
See Counterparts Wiki.
International publications & translations
This is a list of alternate titles for this book being published internationally.
Monsieur Sale (French)
Unser Herr Schlampig (German)
Mr. Anniben (Welsh)
Fætter Sjusk (Danish, 1981)
Hr. Rodehoved (Danish, 2012)
Gubben Slarver (Swedish)
Herr Rotekopp (Norwegian)
Meneer Knoeipot (First Dutch Release)
Meneertje Smeerpoets (Second Dutch Release)
Meneertje Sloddervos (Third Dutch Release)
Meneertje Slordig (Fourth Dutch Release)
מר שלומפר (First Hebrew Release)
מר לכלוך (Second Hebrew Release)
מר בלגן (Third Hebrew Release)
Don Desordenado (Spanish, 1986)
Don Lioso (Spanish, 1999)
Mr. Desastroso (Spanish, 2019)
Ο Κύριος Τσαπατσούλης (Greek)
邋遢先生 (Taiwan, 1988/China/Cantonese, 2013)
髒兮兮先生 (Taiwan, 2010)
Bay Dağınık (Turkish, 1998)
Bay Pasaklı (Turkish, 2019)
不整潔先生 (Cantonese, 2001)
Herra Subbi (Icelandic)
Senhor Desmazelado (Portuguese)
Mr. Pralseach (Irish)
Domnul Murdărici (Romanian)
Господин Штрокавко (Gospоdin Štrokavko; Serbian)
ごちゃごちゃくん (Gochu-gochu-kun; Japanese)
คุณยุ่งเหยิง (Thai)
지저분씨 (Korean, 2011)
너절씨 (Korean, 2012)
Pan Bałagan (Polish)
List of characters
This is a list of Mr. Men, Little Miss and other special characters that appear in this book.
Title character other appearances
This is a list of other books that the title character has appeared in.
Gallery
Artwork from the Mr. Men Show
Mr. Men and Little Miss Screenshots
The Mr. Men Show Screenshots
Miscellaneous
External links
| | | |
| --- | --- | --- |
| V · T · E | Roger Hargreaves | |