Mr. Miserable is a yellow and sad Mr. Man. He eventually learns to smile a while after setting foot into Happyland. Some people claim he made a cameo in a thermometer in the Mr. Men episode, Sneezes and Hiccups.
Plot
In the 1974 cartoon, he and Mr. Happy both bumped into each other while laughing and became one and then split apart.
Counterparts
See Counterparts Wiki.
Picture(s)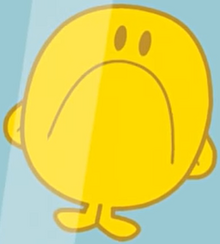 | | | |
| --- | --- | --- |
| V · T · E | Roger Hargreaves | |