Mr. Nonsense

Book No.

33

Release Date

July 3, 1978

Preceded by

Followed by
Mr. Nonsense is the thirty-third book in the Mr. Men series by Roger Hargreaves.
About Him
Color: Yellow
Shape: Round
Gender: Male
Friends: Mr. Silly, Little Miss Dotty
Rivals: unknown
Love: None/Unknown
Family: Mr. Impossible (Adopted brother) Mr. Silly, Mr. Funny, and Little Miss Giggles.
Personality: Talking nonsense and being silly
Voice actors: David Shaw Parker (1992), Gordon Peters (1995-1997), Len Carlson (1997-1999)
Story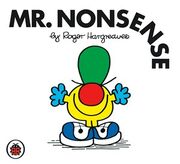 Mr. Nonsense lives in Nonsenseland, in a house on top of a tree. When asked why he sleeps in a rowing boat, the answer is "I tried sleeping in a motorboat and it was somewhat uncomfortable." When asked why he eats porridge on toast, the answer is, "I tried porridge sandwiches and I didn't like them." Mr. Nonsense is best friends with Mr. Silly, and when it snows yellow snow, they go for a toboggan in Mr. Nonsense's rowing boat bed. They build square snowballs somehow.
Triva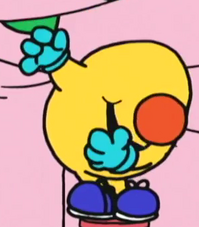 Counterparts
See Counterparts Wiki.
International publications & translations
Mr. Nonsense appears under the title
Monsieur Bizarre (French)
Unser Herr Unsinn (German)
Meneertje Onzin (Dutch)
荒唐先生 (Taiwan)
터무니없어씨 (Korean)
Ο Κύριος Κουταμάρας (Greek)
Don Disparates (Spanish)
ナンセンスくん (Japanese)
List of characters
This is a list of Mr. Men, Little Miss and other special characters that appear in this book.
Title character other appearances
This is a list of other books that the title character has appeared in.
Mr. Nonsense Rows To the Moon (TV)
Mr. Nonsense's Strange Illness (TV)
What a Question, Little Miss Curious (TV)
Mr. Clumsy, Head Butler (TV)(cameo)
Mr. Chatterbox and the Parrot (TV)(cameo)
Little Miss Helpful Goes To The Fair (TV)(cameo)
Mr. Greedy Goes To a Dinner Party (TV)
Gallery
See also
External links
| | | |
| --- | --- | --- |
| V · T · E | Roger Hargreaves | |