Mr. Perfect is the forty-second book in the Mr. Men series by Roger Hargreaves. He was created by two writers, Viviane Cohen and Evelyne Lallemand and an illustrator, Colette David.
Story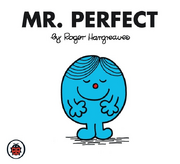 Everything about Mr. Perfect is just perfect. He never has a bad day or anything. One day he hosts a party and invites everyone over, including the ill-mannered Mr. Uppity who never has a nice thing to say to anyone. His guests enjoy the party so much, but Mr. Uppity complains about it too much. At the end he says to Mr. Perfect that his biggest flaw is that he has no problems.
Voice Actors
Gordon Peters (1995-1997)
Len Carlson (1997-1999)
Trivia
Out of the seven deadly sins, Mr. Perfect represents Pride.
He has a similar hairstyle to Mr. Fussy.
He saved Mr. Grumpy and Mr. Uppity in One Day In The Life of Mr. Perfect.
In some prints of his book, the final page has Mr. Uppity colored purple.
Due to his appearance, he could be mistaken for a female.
He originated from France.
Counterparts
See Counterparts Wiki.
International publications & translations
Mr. Perfect appears under the titles
Monsieur Parfait (French)
Mister Perfekt (German)
Senhor Perfeito (Portuguese)
Ο Κύριος Τέλειος (Greek)
Hr. Perfekt (Danish)
Pan Idealny (Polish)
かんぺきくん (Japanese)
السيد مثلي (Alsayyed mithaly) (Arabic)
מר מושלם (Hebrew)
คุณเนี้ยบนิ้ง (Thai)
List of characters
This is a list of Mr. Men, Little Miss and other special characters that appear in this book.
Title characters in other appearances
One Day in the Life of Mr. Perfect (TV)
Mr. Perfect Goes West (TV)
A Very Happy Day for Mr. Happy (TV) (cameo)
Little Miss Neat Sees Spots (TV)
Mr. Funny Puts on a Show (TV) (cameo)
Mr. Mean Hasn't a Penny Left (TV)
Mr. Grumble's Holiday (TV) (cameo)
Gallery
See also
External links
| | | |
| --- | --- | --- |
| V · T · E | Roger Hargreaves | |
Community content is available under
CC-BY-SA
unless otherwise noted.