'I am Mr. Silly, weirdo and so funny. Everything that I invent, is always an event.'
Mr. Silly is the tenth book in the Mr. Men series by Roger Hargreaves.
About him
Colour: Light Brown
Shape: Round
Gender: Male
Personality: Dippy, Silly, Eccentric, Scatterbrained, Nonsense, Meaningless, All over the place!
Family: none
Love: None
Friends: Mr. Nonsense and Little Miss Dotty
Rivals: possibly Little Miss Late
Job: being silly
Pets:A worm
Features: Orange top hat (formerly red) over his eyes, yellow shoes
Voice Actors: Arthur Lowe (1975-1978), John Alderton (1983), Gordon Peters (Mr. Men and Little Miss), Neil Crone (US dub)
Story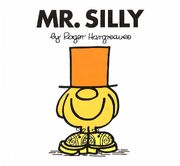 Mr. Silly lives in Nonsenseland, where the trees have red leaves and the grass is blue. Every year there is a contest for the silliest idea of the year, and Mr. Silly can't think of one. All the animals do human activity and say the wrong sounds. Mr. Silly wins the contest by painting all the leaves on the trees green. 
International publications & translations
Mr. Silly appears under the titles
Monsieur Étonnant (French)
Meneer Malloot (Dutch, 1972)
Meneertje Dwaas (Dutch, 1986)
Meneertje Raar (Dutch, 2004)
Meneertje Maf (Dutch, 2013)
מר טמבל (Mar Tembel; Hebrew, 1976)
מר טפשי (Mar Tefshi; Hebrew, 2004)
Unser Herr Komisch (German, 1981)
Mister Quatschkopf (German, 2015)
Mr. Dwl (Welsh)
Fætter Fjolle (Danish)
Gubben Knäpp (Swedish)
Don Tonto (Castilian Spanish)
Don Tontísimo (Mexican Spanish)
Ο Κύριος Ανόητος (Greek)
滑稽先生 (Taiwan)
Herra Kjáni (Icelandic)
엉뚱씨 (Korean)
愚昧先生 (Cantonese)
آقای ابله (Persian, Avae Andisheh)
آقا کوچولوی نادان (Persian, Gonar Danesh)
آقا خنده‌دار (Persian, Ghadiyani)
Пан Глупышкин (Pan Glupyshkin; Russian)
คุณพิลึก (Thai)
荒唐先生 (China)
Senhor Tonto (Portuguese)
Herr Tullball (Norwegian)
はちゃめちゃくん (Hachamecha-kun; Japanese)
Pan Chichotek (Polish)
Trivia
Mr. Silly is Roger's favourite Mr. Men.
According to a Mr. Men comic, his birthday is

February 13th

, "every year" although the book was published on August 15, 1972.
When Mr. Silly was first published on the back cover of Mr. Men books he was cream with a red hat, though he was still the correct colour on the front cover of his book along with it's pages. As of more recent publishing he is light brown with an orange hat, both on the back cover, and on the front cover and the pages.
He is one of the largest Mr. Men in the Mr. Men and Little Miss episodes.
He is the first Mr. Man to wear shoes.
He is sad in Little Miss Late.
He can perfectly imitate a cat's meow.
In the original 1972 version of his book, the Nonsenseland pig is said to be wearing sunglasses and smoking a cigar. This was changed in 1990 to having the pig wearing trousers and a bowler hat. In later editions, the trees were said to have pink leaves instead of red ones.
He only appeared in Season 3 of the 1995 Mr. Men and Little Miss series.
Despite being a predominantly comic character, he does occasionally show some responsibility, such as taking good care of his pet worm. For example, he takes it out for a walk in Mr. Lazy Learns His Lesson.
Counterparts
See Counterparts Wiki.
List of characters
This is a list of Mr. Men, Little Miss and other special characters that appear in this book.
Mr. Ridiculous
Mr. Foolish
Mr. Muddle (Human Farmer)
King of Nonsenseland
Chicken
Worm (not on TV)
Pig (not on TV)
Title character other appearances
This is a list of other books that the title character has appeared in.
Books
Television
Gallery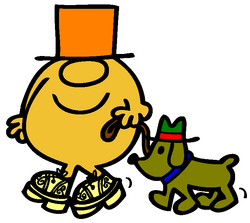 External links
| | | |
| --- | --- | --- |
| V · T · E | Roger Hargreaves | |