Mr. Small's Big Dream is the 22nd episode of the second season of Mr. Men and Little Miss. It was first broadcast on 21 March, 1996.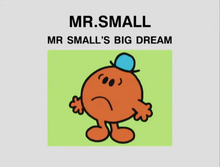 Plot
Mr. Small, Little Miss Greedy, Mr. Busy, and Mr. Skinny go to the carnival to see an amazing animal show. But poor Mr. Small keeps getting left out of everything, which makes him feel really sad. When they went to the funny mirror hall, Mr. Small saw a mirror that made him look big. That's when Mr. Small thought of what it would be like if he was big. He would ride the bumper cars, get the biggest Candy Floss, even defeat the strongest man in the world at arm wrestling.
When Mr. Small's dream ends Little Miss Greedy says "Well Mr. Small, have you forgotten about the show". Mr. Small suddenly remembers. But when they get there the man at booth says that the show is cancelled because the trainer is hurt. Mr. Small says that he can fill in because he's already seen the show 3 times. The man agrees and Mr. Small succeeds in training a frog. Everyone cheers, making Mr. Small feel pretty big.
Characters
Voices
UK Voices
Geoffrey Palmer - The Narrator
Jill Shilling - Little Miss Greedy
Gordon Peters - Mr. Small, Mr. Skinny, Mr. Busy, Candy Floss Vendor, Strong Man's Assistant, Man at Ticket Booth
US Voices
Len Carlson - Mr. Skinny, Strong Man's Assistant
Neil Crone - Mr. Small, Mr. Busy, Candy Floss Vendor
Judy Marshak - Little Miss Greedy, Man at Ticket Booth
Ron Rubin - The Narrator
Transcript
The transcript for Mr. Small's Big Dream can be seen here
Trivia
Errors
Gallery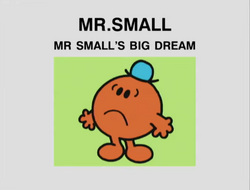 Video