Mr. Sneeze

Book No.

5 (UK and US)
45 (France)

Release Date

August 10, 1971

Preceded by

Followed by
Mr. Sneeze is the fifth book in the Mr. Men series by Roger Hargreaves.
About him
Colour: Dark blue
Shape: Star-shaped
Gender: Male
Personality: Atishoo, Sneezy, Freezing, Cold, Miserable, Shivering, Feverish
Hair: None
Relatives: None
Hometown: Shivertown, Coldland
Job: Sneezing and getting sick
Features: No arms and sclera
Voice Actors: Arthur Lowe (1975-1978), Gordon Peters (Mr. Men and Little Miss, UK), Len Carlson(?) (Mr. Men and Little Miss, US)
Story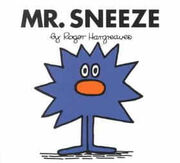 Mr. Sneeze lives in Shivertown, the capital of Coldland, where everybody has a red nose from all the sneezing. Mr. Sneeze doesn't like sneezing all the time, and makes a long journey to help him stop sneezing. He meets a wizard to which he explains the story. The wizard teleports the two to Coldland, and the wizard uses his magic to warm up the place. Nobody has red noses anymore, not even Mr. Sneeze.
Trivia
His only speaking role in the 1995 series was in the episode Mr. Bump Has an Accident.
He may have a severely bad cold or pneumonia.
His possible catchphrases are, "Atishoo!" and "I don't like all this sneezing!"
He was the only character in the original series to have sclera in his eyes instead of simple beady ones.
He is also the only character with no visible arms.
He was the only star shaped character in the original series.
Whatever design he has at the time changes the amount of spikes on his body.
At two points of his story, his nose became dark blue like him after he stopped sneezing.
Even though he only has a red nose when the weather is cold in his story, in other stories his nose is red regardless of the weather.
His sneezes appear to be weaker than Mr. Stubborn's sneezes in the second season of The Mr. Men Show.
Counterparts
See Counterparts Wiki.
International publications & translations
Mr. Sneeze appears under the titles
Monsieur Atchoum (French)
Unser Herr Hatschi (German)
Mr. Tisian (Welsh)
Fætter Nys (Danish)
Gubben Attschoo (Swedish)
Herr Atscho (Norwegian)
Meneer Hatsjie (First Dutch Release)
Meneertje Hatsjoe (Second Dutch Release)
מר אפצ'י (Mar Afts'i; Hebrew)
Don Estornudo (Spanish)
Ο Κύριος Συναχούλης (Greek)
噴嚏先生 (Taiwan)
Herra Hnerri (Icelandic)
Господин Кијавко (Gospodin Kijavko; Serbian)
喷嚏先生 (China)
Senhor Espirro (Portuguese)
くしゃみくん (Kushiumi-kun; Japanese)
재채기씨 (Jaechaegi-ssi; Korean)
Bay Hapşırık (Turkish)
Pan Kichaczek (Polish)
Herra Hnerri(Icelandic)
List of characters
This is a list of Mr. Men, Little Miss and other special characters that appear in this book.
Title character other appearances
This is a list of other books that the title character has appeared in.
Books
Television
Gallery
Screenshots
Miscellaneous
External links
| | | |
| --- | --- | --- |
| V · T · E | Roger Hargreaves | |