Mr. Sneeze

Book No.

5

Release Date

April 3, 1971

Preceded by

Followed by

Mr. Sneeze is the fifth book in the Mr. Men series by Roger Hargreaves.
About him
Color: Dark Blue
Shape: Star-shaped
Gender : Male
Hair: None
Love: Little Miss Jealous
Relatives : none
Job: Sneezing and geting sick
Features: No Arms.
Voice Actors: Arthur Lowe (1975-1978), Gordon Peters (1995-1997), Len Carlson (1997-1999)
Story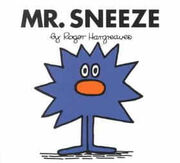 Mr. Sneeze lives in Shivertown, the capital of Coldland, where everybody has a red nose from all the sneezing. Mr. Sneeze doesn't like sneezing all the time, and makes a long journey to where there is no sneezing. He meets a wizard to which he explains the story. The wizard teleports the two to Coldland, and the wizard uses his magic to warm up the place. Nobody has red noses anymore, not even Mr. Sneeze. His sneezes are weaker than Mr. Stubborn's sneezes in the 2009 show.
About Him
-Lives:Shivertown, Coldland
-Home:A snow covered cottage
-Realitives:Unknown
-Job:Sneezing and having a cold
Trivia:
He probably appeared in LPS Personalities.He is a cow with a red nose.He is seen running away from Miss Magic's
party in the fourth episode.
Counterparts
Sneezo (Henry Hugglemonster, both sneeze),
Lunk and Meltus (Mixels, all 3 sneeze),
Snot Rod (Cars, both sneeze),
Lunch (Dragon Ball, both sneeze),
Dawn (Pokemon, both have similar sounding voices when they talk),
Sneezy (Snow White and the 7 Dwarfs, both sneeze a lot),
Lisa Zemo (Ned's Declassified School Surviaval Guide, both have allergies and sneeze a lot),
Sunnyside Elephant (Toy Story 3, both sneeze a lot),
Henry (The Railway Series, both sneeze, but Henry sneezed once),
Homestar, Champeen, Homeschool, Marzipan, The King of Town, and Homsar (Homestar Runner, all are armless),
Wheezy (Toy Story, both get sick and cough),
Earl (Cow & Chicken, both have snotty noses),
Jeremy (iCarly, Both sneeze a lot),
Rudolph (Rudolph the Red-Nosed Reindeer, both have red noses),
Sonic the Hedgehog (Sega, both are spiky and blue),
Gordon (The Railway Series, both are blue),
Pongdybory (Noonbory and the Super 7, both are blue and sneeze),
Mr. Fothergill (Bob the Builder, both sneeze),
Sneezly Seal (Breezly and Sneezly, both are always sneezing),
Bajoo (Pingu, both sneeze and live in snowy places),
Kan-chan (Hakushon Daimaou, both sneeze),
Rita (Flushed Away, both sneeze things),
James (The Railway Series, both have red noses, but James had a red nose once),
Ed (Ed, Edd 'n Eddy, both sneeze; Ed only sneezed in one episode),
Miss A (Letter People, both sneeze).
Spikor (Masters of the Universe, both are dark blue and spiky)
Aanchoo (Galli Galli Sim Sim (the Indian version of Sesame Street) both sneeze a lot)
International publications & translations
Mr. Sneeze appears under the titles Monsieur Atchoum (French), Unser Herr Hatschi (German), O Senhor Espirro (Portuguese), 재채기씨 (Korean), Mr. Tisian (Welsh), Meneer Hatsjoe (Dutch), 噴嚏先生 (Taiwan), Ο Κύριος Συναχούλης (Greek), Fætter Nys (Danish), מר אפצ'י (Hebrew).
List of characters
This is a list of Mr. Men, Little Miss and other special characters that appear in this book.
Title character other appearances
This is a list of other books that the title character has appeared in.
See also
External links
| | | |
| --- | --- | --- |
| V · T · E | Roger Hargreaves | |
Community content is available under
CC-BY-SA
unless otherwise noted.