Mr. Snooty

Book No.

11 (UK and US)
27 (France)

Release Date

Preceded by

Followed by
Mr. Snooty (Originally titled Mr. Uppity) is the eleventh book in the Mr. Men series by Roger Hargreaves.
About him
Colour: Brown, sometimes tuscan, mahogany, or purple (as seen on some prints of the last page of Mr. Perfect)
Shape: Bean
Gender: Male
Personality: Know-it-all, bossy, arrogant, pompous, snooty, disapproving, narcissistic, cold, rude, crude, obnoxious, contempt, snobbish, wealthy, overzealous, disrespectful
Family: None
Height: Normal Mr. Man height
Weight: Average
Friends: Mr. Fussy, Mr. Grumpy, Little Miss Trouble, Little Miss Bossy
Hometown: Bigtown
Likes: Money, being rude, his own arrogance, bossing people around
Dislikes: Being polite, goblins, wasting time, laziness, slowness, making excuses, potatoes
Job: Being rude, rich, and selfish, giving orders, and bossing people around
Features: Black top hat and monocle
Voice Actors: Arthur Lowe (1974-1978), John Alderton (1983, UK),

Ted Lehmann

(1983, US), David Shaw Parker (1992), Gordon Peters (Mr. Men and Little Miss, UK), Len Carlson (Mr. Men and Little Miss, US)
Story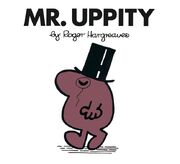 Mr. Snooty lives all on his own in a very large house in Bigtown. He is one of the rudest people in the world, if not the rudest, and also one of the richest people in the world, if not the richest, living in the largest house with the largest, longest garden with the largest, longest flowerbeds on the largest, longest hill with a high staircase in Bigtown, and having the largest, longest limousine in Bigtown, and he is rude to everybody he meets.
One day he walks through his large long flowerbeds in his large long garden outside his large house on a large hill with a high staircase and he meets a goblin. When he is rude to the goblin, he says "Go away!", and the goblin shrinks Mr. Snooty to the size of himself by magic of saying "Wobblygobblygook!" so he can fit into a hole in a tree, and they enter the tree to meet the King of the Goblins, who the goblin agrees with to shrink Mr. Snooty by magic by saying "Koogylbbogylbbow!" ("Wobblygobblygook!" backwards) if he is rude to somebody.
Every time Mr. Snooty meets someone and he is rude to them, the goblin shrinks him until he learns to say something nice to them like saying "Please" and "Thank you", such as when he goes to a man to buy a newspaper, and also learns to smile. In the end, Mr. Snooty is a changed person, he's still possibly the richest person in the world, but now he's very popular and has lots of friends which he made after he learned to apologise for his rude and disrespectful ways. Now he most frequently uses the words "Please" and "Thank you".
International publications & translations
Mr. Snooty appears under the titles:
Monsieur Malpoli (French)
Unser Herr Hochnase (German)
Mr. Ffroenuchel (Welsh)
Fætter Storsnude (Danish, 1981)
Hr. Højhed (Danish, 2012)
Meneer Onbeleefd (First Dutch Release)
Meneertje Verwaand (Second Dutch Release)
מר גדליהו (Mar Gedalyahu; First Hebrew Release)
מר גאותן (Second Hebrew Release)
傲慢先生 (Mandarin, Taiwan, Cantonese)
Don Señorito (European Spanish)
Don Ínfulas (Mexican Spanish)
Ο Κύριος Φαντάσμένος (Greek, 1988)
Ο Κύριος Ακατάδεχτος (Greek, 1990s)
آقای از خود راضی (Persian, Azarbad)
آقای مغرور (Persian, Avae Andisheh)
مغرور آقا (Persian, Ghadiyani)
آقای مغرور خان (Persian, Panosht)
คุณอวดดี (Thai)
거만씨 (Korean)
たかびしゃくん (Takabisha-kun; Japanese)
Herr Oppesen (Norwegian)
Pan Bufon (Polish)
Herra Hroki (Icelandic)
Title character other appearances
This is a list of other books that the title character has appeared in.
Trivia
Out of the Seven Deadly Sins, Mr. Snooty represents about three of them: Pride, Greed, and Envy (somtimes).
He is so rude, he finds it difficult to say "Thank you"; in his book, he says "thank you" at the end.
In the book, Mr. Snooty is stated to be the rudest person is the world, but this was retconned when Mr. Rude was introduced for the series.
So far, Mr. Snooty is even meaner than Mr. Mean, and also richer than him.
He doesn't care much if Mr. Bump gets hurt.
He doesn't get along with Mr. Grumble, because they usually have a fight with each other.
Despite disliking Mr. Mischief, he gets along just fine with Little Miss Trouble, and even goes as far as to assist her in doing troublesome deeds, even though she is ideally the female counterpart of Mr. Mischief.
He actually cares about Mr. Happy, as he outright calls him his friend, as said in "A Very Happy Day for Mr. Happy".
In "Mr. Forgetful the World's Best Actor", Mr. Snooty turns, and we see one eye without the monocle. He is also depicted as a movie director.
In "Little Miss Star Goes to Jollywood", Mr. Snooty states that his name is James. Because it is a dream, it is unknown if this is actually his real name or not.
In "Mr. Impossible's Lesson", Mr. Snooty upset Little Miss Shy.
He turned into a toad in "Mr. Men - Adventure in Magicland".
Though it has been stated that Mr. Snooty reformed by the end of his story, later events have proved otherwise, as shown in future works such as Mr. Perfect. For example, in "Mr. Greedy is Helpfully Heavy", Mr. Snooty invites Mr. Greedy to his enormous house for lunch, only to postpone it as he is packing for an upcoming holiday. He demands an explanation from Mr. Greedy as to why Mr. Greedy has come to his front door at such an inconvenient time, and even insists Mr. Greedy to help force his bulging suitcases shut, despite later praising Mr. Greedy for his efforts.
According to the website, his favourite food is caviar.
He was knighted in

Mr. Men - Adventures with Knights

Unlike Mr. Jelly, Little Miss Dotty, and Mr. Mean, whose names were only changed in America, as of January 7, 2021, Mr. Snooty's name was changed in all English-speaking territories, making him the second character to do so, after 48 years of his original name, and after Little Miss Greedy, as shown in the official British-operated Mr. Men site (as can be linked to below) and several British bookstores. In fact, when "uppity" is typed in the URL bar, it redirects to Mr. Snooty.[1][2]

This is most likely in light of the Black Lives Matter movement due to the word "uppity" having racist and problematic origins. Little Miss Greedy's name was changed from Little Miss Plump for similar, various reasons.[3]
As Mr. Men and Little Miss was produced more than two decades prior to his name change, his episodes of said series remain unchanged. This is similar to how Little Miss Greedy's original name is still used in her original cartoon, as it was produced before Hargreaves' death and thus, before her name was changed.
Counterparts
Gallery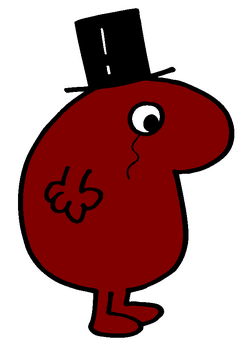 External links
References
| | | |
| --- | --- | --- |
| V · T · E | Roger Hargreaves | |