"Oh, pickles!"
— Mr. Strong
Mr. Strong is the twenty-sixth book in the Mr. Men series by Roger Hargreaves. He is one of the Mr. Men and Little Miss characters to appear in the Mr. Men Show.
About him
Colour: Red
Shape: Square (book), Round triangle (The Mr Men Show)
Gender: Male
Personality: Active, Engaging, Physical, Energetic, Well-built, Brawny, Sturdy, Tough, Bodybuilder.
Hair: None
Family: Unknown
Likes: Eggs
Dislikes: Breaking things, Mr. Bump getting hurt, being too strong (at times).
Friends: Mr. Bounce, Mr. Bump, Mr. Rude, Mr. Grumpy, Little Miss Whoops, Little Miss Helpful, Little Miss Tiny and the rest of the characters
Rivals: Little Miss Naughty
Height: Average Mr. Men height (Original), about twice the average Mr. Men Height (2008)
Weight: Very Heavy
Job: Being muscular, strong and helping other people.
Features: Green fedora hat (book), weightlifter's belt & large biceps (The Mr. Men Show)
Nationality: German (US dub of Mr. Men and Little Miss), Philadelphian (US), English (UK)
Voice Actors: Arthur Lowe (1975-1978), John Alderton (1983), David Shaw Parker (1991-1992), Gordon Peters (Mr. Men and Little Miss), Len Carlson (US dub), Phil Lollar (The Mr. Men Show), Simon Greenall (UK dub)
Catchphrases: Good thing I came along, Yo! and Aw, pickles!
Story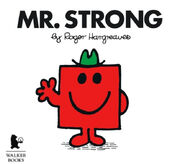 Mr. Strong is so strong from eating many eggs, to the point that he finds himself accidentally breaking things, until he finds a farmer whose cornfield is on fire. Mr. Strong is so strong he picks up the farmer's barn and fills it with water, pours it on the cornfield, extinguishing it. Mr. Strong is rewarded with a basket full of eggs from the chickens on the farm. He went home and sit on the chair, but it broke. At the end of the story, the reader is surprised to find out that Mr. Strong is having ice cream for dessert.
International publications & translations
Mr. Strong appears under the titles
Monsieur Costaud (French)
Don Forzudo (Spanish)
Mr. Fortachon (Second Spanish release)
Unser Herr Stark (German)
Meneertje Sterk (Dutch)
Ο Κύριος Δυνατός (Greek)
強壯先生 (Taiwan)
힘세씨 (Korean)
Fætter Stærk (Danish)
Gubben Stark (Swedish)
Bay Güçlü (Turkish)
ちからもちくん (Japanese)
מר חזק (Hebrew)
السيد مقطو (Alsayyed muqtawy) (Arabic)
Hr. Sterkur (Icelandic)
Pan Siłaczek (Polish)
คุณแข็งแรง (Thai)
List of characters
This is a list of Mr. Men, Little Misses and other special characters that appear in this book.
The Mr. Men Show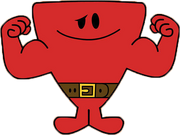 In the 2008 TV series The Mr. Men Show, Mr. Strong kept his red color, but his shape is a triangle instead of a square in the books, he traded his hat for a brown weight buckle, and he has muscular arms to emphasize his character trait. As shown in the "Beach'n with the Boombox" music video, every little miss finds him attractive, though since it's a music video, it may not be canon. In "Beach Party A-Go Go" Little Miss Giggles and Little Miss Chatterbox fell in love with him. His catchphrase is "Aw, pickles!", and he usually says this when he breaks something by barely even touching it. In Amusement Park he seems to be afraid of heights as he comments in a shaky voice on how high they were going. He is seen as a nurse in Boo-Boos. He lives in a house that is white with a black roof, two windows and a door which is seen in some of the episodes. In the US and UK versions, he is voiced by Phil Lollar and Simon Greenall. His US voice is based on actor Sylvester Stallone.
Trivia
General/boook trivia
Mr. Strong's North American voices are modeled after actors known for being muscular and tough. In the Canadian dub of Mr. Men and Little Miss, Mr. Strong's voice was based on that of Austrian actor Arnold Schwarzenegger, best known for the Terminator films, and in The Mr. Men Show, his voice is based on Sylvester Stallone of Rocky fame.
In the books and cartoons he is shown to like eggs as his favorite food. His own story, Little Miss Stubborn, Little Miss Tiny, briefly in What A Mess, Little Miss Helpful, and he is also seen eating eggs in Golly, Mr. Grumpy's Smiling)
First appearance: Little Miss Splendid's Gift
First speaking appearance: The Joke is on Little Miss Naughty
The Mr. Men Show trivia
His new design appeared in a UK newspaper advert one year before The Mr. Men Show premiered.
First appearance: Physical
Mr Strong was seen with an iPhone in Pets.
Mr. Strong has his belt off at the end of the music video "Beach Party A-Go-Go" and in Dance.
There was an unknown Little Miss in the website's video for "Beachin' With the Boom Box" that looks like a female version of Mr. Strong as a throwaway gag.
The Mr. Men Show is the only form of Mr. Men media where Mr. Strong does not eat eggs.
Counterparts
See Counterparts Wiki.
Title character other appearances
This is a list of other books that the title character has appeared in.
Books
Television
Gallery
Artwork from the Mr. Men Show
Screenshots
See also
External links
| | | |
| --- | --- | --- |
| V · T · E | Roger Hargreaves | |
Community content is available under
CC-BY-SA
unless otherwise noted.