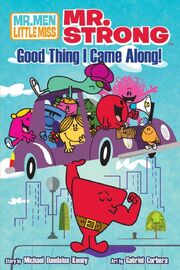 Mr. Strong: Good Thing I Came Along is the 4th graphic novel out of the Mr. Men Show graphic novels by VIZ Media.
The Wild, Wild West
Mr. Strong saves a western town from Mr. Messy, Mr. Rude, and Little Miss Naughty's littering group.
Off To The Races
Mr. Strong helps Little Miss Daredevil win the Dillydale Mussle Car Race.
Follow That Dog! Pt. 1
Mr. Strong tries to save a dog named Biscuit.
---Brief Musical Interlude---
Follow That Dog! Pt. 2
Mr. Strong continues the rescue, but it turns out Biscuit is NOT Little Miss Whoops's dog.
Mr. Strong's Dinner Party
Mr. Strong starts a dinner party thanks to a TV commercial, and he invites everyone.
Super Strong!
Mr. Strong helps everyone.
Trivia
Little Miss Calamity made a speaking appearance after 5 years of silence.
The book was released on January 1, 2013.
Mr. Bounce is small again, unlike the other 3 books.
Mr. Grumpy actually smiles in this book.
Gallery
Community content is available under
CC-BY-SA
unless otherwise noted.