m

(No difference)
---
Revision as of 21:21, 9 May 2021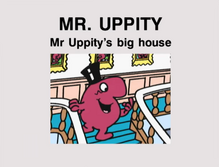 Mr. Uppity's Big House is the 4th episode of the first season of Mr. Men and Little Miss. It was first broadcast on 27 October, 1995.
Plot
Mr. Uppity loves his enormous house, so he decides to open it to the public in order to make some money. He puts an advertisement in the paper for a Mr. Man to come and do the housework and it's Mr. Clumsy who turns up! Mr. Uppity hesitates a moment, but Mr. Clumsy promises to be very careful. And indeed, Mr. Clumsy manages to clean the whole house without any breakage, despite a series of near disasters! In actual fact, it is Mr. Uppity who causes the final catastrophe!
Characters
UK Voices
Geoffrey Palmer - The Narrator
Jill Shilling - Little Miss Splendid, Little Miss Shy
Gordon Peters - Mr. Uppity, Mr. Forgetful, Mr. Clumsy
US Voices
Len Carlson - Mr. Uppity, Mr. Forgetful, Mr. Clumsy
Catherine Disher - Little Miss Splendid, Little Miss Shy
Ron Rubin - The Narrator
Trivia
As Little Miss Magic appeared in this episode, it is possible she appeared at Mr. Uppity's house, after he broke his favourite vase, and then Miss Magic magiced the pieces back together.
When Mr Clumsy entered Mr Uppity's Big House he accidentally broke the gate knob off, broke the door bell chain off and pushed one of the front doors down.
The picture of Mr Uppity Fishing moves like pictures in the Harry Potter film.
In Other Languages
| Language | Name | Meaning |
| --- | --- | --- |
| French | La somptueuse maison de Mr Malpoli | The palatial home of Mr. Rude |
Community content is available under
CC-BY-SA
unless otherwise noted.