Mr. Wrong

Book No.

34

Release Date

July 3, 1978

Preceded by

Followed by
Mr. Wrong is the thirty-fourth book in the Mr. Men series by Roger Hargreaves.
About him
Colour: Red
Shape: Round
Gender: Male
Love: Little Miss Birthday
Relatives: Mr. Right (cousin)
Job: Doing things wrong
Features: Flowerpot on his head, blue and yellow gloves, and brown and black shoes.
Voice Actors: Gordon Peters (1995-1997), Neil Crone (1997-1999)
Story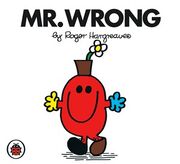 Mr. Wrong does everything wrong. He tends to do everything in his life the wrong way. He even walks the wrong way! One day he meets Mr. Right, a person who looks like him but does everything right. Mr. Right tries to teach his new friend how to be right, but everything goes wrong!
International publications & translations
Mr. Wrong appears under the titles Monsieur Farfelu (French), 틀려씨 (Korean), 糟糕先生 (Taiwan), O κυριος λαθος (Greek), Unser Herr Falsch (German), Fætter Forkert (Danish), まちがいくん (Japanese).
Trivia
He appeared (alongside Mr. Clever and Mr. Busy) in an Intercity advert made in 1996.
List of characters that appear in this book
Title characters in other appearences
Books
Television
Counterparts
See Counterparts Wiki.
Gallery
See also
External links
| | | |
| --- | --- | --- |
| V · T · E | Roger Hargreaves | |