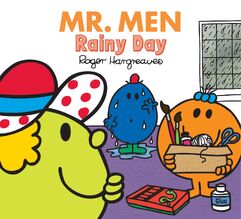 Plot
Poor Little Miss Splendid. She had been looking forward to taking the rest of the Mr. Men and Little Miss on a lovely day out, but alas, it came on a rainy day.
Fortunately Little Miss Fun has a solution - find some indoor activities for them to do:
They all begin to have fun, but not in the way everyone imagined it:
Miss Scatterbrain and Mr. Nonsense make cakes that nobody in their right mind would eat and make a mess of the kitchen.
Mr. Dizzy and Little Miss Dotty paint the dining room wall with dots.
Mr. Mischief and Little Miss Naughty both get bored of the board games and use them as sledges causing Miss Splendid's vases to get smashed
Little Miss Somersault and Mr. Forgetful making a magic carpet out of Little Miss Splendid's rug and gluing the chairs together to make a ladder
Little Miss Giggles and Little Miss Star pillow fighting
It'll likely take a long time to clean up all that mess but at least everyone had fun.
Barring Mr. Muddle who was sunbathing in the rain!
Community content is available under
CC-BY-SA
unless otherwise noted.