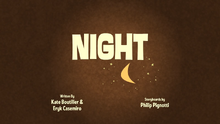 Night is a Season 1 episode of The Mr. Men Show.
Synopsis
Mr. Stubborn refuses to believe in werewolves; the Case of the Little Missing Scatterbrain proves puzzling; and Mr. Lazy is mistaken for a museum mummy!
Plots
Transcript
The transcript for Night can be seen here.
Bumpers
Mr. Nervous is playing a jigsaw puzzle, with Little Miss Scary popping out of the window.
He sees a shadow, and opens the windows for Miss Scary to pop out.
He sees a shadow and opens the windows and no one where there but Miss Scary pops out.
Trivia
Dub edits
When Mr. Stubborn is transformed into a werewolf, Mr. Tickle shouts "It's a werewolf!", but in the UK dub, he addresses Mr. Stubborn by name.
In the segment with Mr. Scatterbrain, "pizza dogs" is changed to "pizza hot dogs" and "suspenders" is changed to "pajamas".
Goofs
The transition between the second bumper and the next segment is not in sync. When the screen hits both Mr. Bump and Little Miss Calamity, it doesn't actually touch them.

Said segment takes place during the day rather than at night.

Mr. Bump and Little Miss Whoops vanish in the next scene when Mr. Stubborn was about to transform, but came back after Mr. Stubborn starts walking.
Gallery