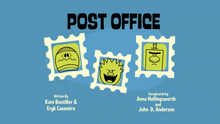 Post Office is a Season 2 episode in The Mr. Men Show.
Synopsis
The Mr Men and Little Miss have a busy day at the post office today! Mr. Tickle distracts Mr. Bump from sorting letters; Mr. Messy sings the praises of junk mail; Mr. Grumpy attempts to pick up a package from Mr. Rude.
Plots
Mr. Tickle and Mr. Bump's Plot: Mr. Tickle tickles Mr. Bump into the package machine and he gets squashed into a package shape, he gets sent to Mr. Stubborn who sends him back to the post office.
Miss Scary's Plot: Miss Scary ads for her stamps of fear. (Not in the UK)
Mr. Messy and Miss Bossy's Plot: Miss Bossy hijacks Mr. Messy's show Shazam That's Good! so that Mr. Messy can sing a junk mail song.
Mr. Grumpy, Mr. Rude and Mr. Scatterbrain's Plot: Mr. Grumpy is trying to get his package from Mr. Rude and has a hard time with him. Mr. Scatterbrain the store manager gives him an ostrich and says to come back the next day.
Trivia
According to a production screen, this episode was originally going to be called "Mail".
It's revealed that the mayor of Dillydale is Mr. Scatterbrain.
Dub edits
In the Shazam That's Good segment, Little Miss Bossy says "tough tamales" when escorting Mr. Messy to the guest couch. This is changed to "ah, jeez" in the UK version.
In "Junk Mail", the word "fender" is replaced with "bumper" and "get it?" is replaced with "wicked!".
Gallery