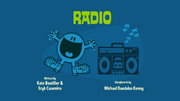 Radio is the twenty-fifth episode (first part of the thirteenth episode) of The Mr. Men Show.
Plots
Mr. Happy, Mr. Grumpy, Mr. Nosy and Mr. Small's plot: Mr. Happy takes Mr. Grumpy to the Fish Museum but is annoyed by his Radio. Mr. Nosy and Mr. Small join in too.
Mr. Messy's plot: Mr. Messy ads for Dillydale FM (Deleted in the UK)
Mr. Fussy and Miss Helpful's plot: Mr. Fussy makes Chocolate Cake or Pizza with a radio with Miss Helpful.
Mr. Rude and Mr. Scatterbrain's plot: Mr. Rude wants an alarm clock from Mr. Scatterbrain. He gets the best one but it breaks on the way out and Mr. Rude ends up getting a rooster.
Trivia
On the Special Edition, Wall of Voodoo's "Mexican Radio" is remixed ala Mr. Lazy, Mr. Rude, Mr. Grumpy and, Mr. Nervous. Also, this is the first TV appearance of Dillydale FM, and a clip of "Beachin' with the' BoomBox video" is in this episode.
This is the fourth time Dillydale Dance Floor was heard in the UK dub (Picnics, Parties, Seashore).
This is the second normal appearance of Dillydale FM. The first time was in Robots.
Scenes from this episode were leaked a month prior to the second season's premiere on Dagan Moriarty's animation reel on YouTube.
Gallery