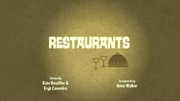 Restaurants is the twenty-ninth episode (first part of the fifteenth episode) of Season 1 of The Mr. Men Show.
Synopsis
Mr. Rude has to be polite at a fancy restaurant, Mr. Bump cleans dishes, and Mr. Grumpy gets a very surprising meal from Mr. Scatterbrain.
Plots
Mr. Persnickety and Mr. Rude's Plot: Mr. Persnickety takes Mr. Rude out to a restaurant and they sit at a bad table. He tells Mr. Rude to use good manners or they'll be asked to leave. Mr. Rude's antics eventually get Mr. Persnickety asked to leave the restaurant and not Mr. Rude probably because Miss Helpful is one of the characters who don't care about Mr. Rude's manners, although she is part of the Angry Heads who shout "Mr Rude!"
Mr. Strong and Mr. Bump's Plot: Mr. Strong has asked Mr. Bump to wash the dishes. He soon gets knocked into the machine.
Miss Calamity's Plot: Miss Calamity causes a calamity while trying to make buns (to the point of thinking the dough is alive) but Mr. Small and Mr. Nosey, who were passing by, blatantly ignore her pleas for help!.
Mr. Grumpy and Mr. Scatterbrain's Plot: Mr. Grumpy gets the wrong orders from Mr. Scatterbrain.
Advertisement (US version only): Mr. Messy's pizza parlor.
Trivia
This episode is one of the rare instances where spaghetti and meatballs were referred to as such instead of spaghetti and beanballs (in Mr. Messy's Pizza Parlor commercial) since anything in the Mr. Men Show that has the word meat in it is replaced with bean or nut.
Little Miss Calamity listens to "All's Not Fair" from Fair.
Dub edits
Little Miss Chatterbox and Little Miss Naughty spoke in the the British dub.
Mr. Grumpy's order of rice and beans was changed to bangers and mash.
When Mr. Nosey and Mr. Small leave, in the US version, Little Miss Calamity asks "Could you save me first?!" In the UK, she says "Can you save me please?!"
Goofs
The spoon Mr. Rude flings hits Mr. Bump and Miss Calamity on the right (viewer's left). However, their table is supposed to be at the opposite side.
The restroom door and chandelier vanish after Miss Helpful shows Mr. Persnickety and Rude their table.
Mr. Grumpy's dialogue at the start of his segment in the British dub doesn't match with the mouth.
The description on the official YouTube upload uses the summary from "Adventure".
Gallery