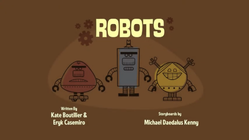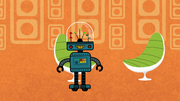 Robots is a Season 2 episode of The Mr. Men Show, Mr. Metal makes his only appearance in this episode.
Plots
Mr. Grumpy's Plot: Miss Chatterbox gives Mr. Grumpy a robot version of him. It brings Mr. Stubborn and Mr. Nervous into his house when he asks for stuff. Then it brings Mr. Noisy, Mr. Happy and Miss Sunshine into his house.
Musical number (US version only): An instrumental music video conducted by robotic versions of Mr. Messy, Mr. Rude, Little Miss Sunshine, Mr. Strong, Mr. Quiet, Mr. Small, Mr. Scatterbrain, Little Miss Chatterbox and Mr. Tall. It ends abruptly when the robot Mr. Rude farts, causing the other robots to leave and shout his name, everyone then leaves with the exception of the real Mr. Rude who is clapping, the robot then bows and the segment ends.
Miss Scary, Miss Whoops, Mr. Fussy and Mr. Rude's Plot: Miss Scary and Miss Whoops make a robot but Miss Whoops breaks the computer brain and uses a toaster making the robot zap bread.
Mr. Happy, Miss Sunshine and Mr. Metal's Plot: Mr. Happy and Miss Sunshine introduce Mr. Metal on Good Morning Dillydale. He says that he wants to be a host on the show, but Mr. Happy says that the job has been taken. He shrinks Mr. Happy and Miss Sunshine with his shrinking ray. It was revealed that Miss Naughty build him and she wanted to take over the show. Then she gets shrunk as well.
Trivia
This episode along with Bath & Bubbles is the only Season 2 episode to have Good Morning Dillydale.
In the Mr. Messy dance scene, there are two sound effects from Super Mario World, the midway point sound, and the left/right camera scroll sound.
Gallery