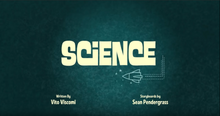 Science is the 5th episode of The Mr. Men Show.
Synopsis
Mr. Stubborn shares his scientific theories; Little Miss Whoops topples a T-Rex; and during a visit to the Planetarium, Mr. Nervous embarks on a personal space odyssey.
Plots
Miss Sunshine, Mr. Stubborn, Mr. Small and Mr. Tickle's Plot: Miss Sunshine is showing Mr. Stubborn, Mr. Small and Mr. Tickle Moon Rocks. Mr. Stubborn thinks that they're fake. He even pulled an arm off a mummy and left.
Mr. Grumpy and Miss Daredevil's Plot: Miss Daredevil asks Mr. Grumpy for a rocket. Being the funny Little Miss she is, she buys a lot of toy rockets and glues them all onto a chair and blasts off.
Miss Whoops and Miss Helpful's Plot: Miss Whoops tries to put the nose on the T-Rex skeleton (In reality, T-Rexs had no nose horn), but it falls off again, so Miss Whoops tries to put it back on, but Miss Helpful finds a loose screw and removes it, Miss Whoops falls down and the T-Rex falls apart.
Mr. Persnickety and Miss Naughty's Plot: Mr. Persnickety is teaching about frogs. Miss Naughty lets the frogs loose.
Mr. Nervous' Plot: Mr. Nervous imagines that he's fixing a satellite to save the world, but gets lost in a meteor shower to get his wrench. He is really at the Planetarium.
Bumpers
Trivia
Mr. Happy sings a song about how flowers work in the US version of this episode and also Miss Scary sings a Song called "Dinosaurs on the Loose" which can also be heard in Telephone, Seashore, Radio and Surprises.
This is currently the only episode to have 2 Songs in the episode.
This is also another episode in the UK version to not have a deleted plot, the other being Farm.
During Miss Sunshine's tour of the Science Museum, when Mr. Stubborn drops the moon rock on his foot and Mr. Tickle offers a tickle, he says what Mr. Grumpy would say to Mr. Tickle: "Not if you value your arms!"
Miss Helpful's Video is in this Episode
Miss Naughty's Video is in this Episode
In the UK version, there was a transition of frogs that show up after Miss Naughty leaves. This is strangely absent in the US version.
Miss Sunshine was not angry when she said to Mr. Stubborn: "I think perhaps you should leave"  unlike other characters in situations like that. (like Miss Helpful's plot in Restaurants)
Miss Whoops and Miss Helpful's plot is a reference to a past misconception in real life, in which Iguanodon's thumb spike was originally thought to have been its horn.
Everyone except for Mr. Messy and Mr. Scatterbrain appeared in this episode.
Goofs
In Mr. Persnickety's plot, the back view of the audience was Miss Whoops, but in the front view it was actually Mr. Bump.
Also, Mr. Persnickety states that there are exactly 5,418 different species of frogs in the world. He's wrong by over 700.
Gallery