(8 intermediate revisions by 5 users not shown)
Line 1:
Line 1:
 
+
−

[[File:Placeholder|right|300px]]

 
−

A Sea Monster is a sea creature that doesn't exist in real life.

+

A Sea Monster is a sea creature that doesn't exist in real life.

 
+
 
+
 
+

There are some sea creature similar Sea Monsters, like the Giant Fish from Lakes and the Giant Squid from Car Wash.

 
+

[[File:Sea Monster2.jpg|thumb|In [[Out To Sea]]]]

 
+

[[File:Sea Monster3.jpg|thumb|In [[Sand & Surf]]]]

 
 
 

==Appearances==

 

==Appearances==

 
+

===Season 2===

 
 
 

* [[Seashore]]

 

* [[Seashore]]

Line 8:
Line 14:
 

* [[Out To Sea]]

 

* [[Out To Sea]]

 
 
−

* [[Surf & Sand]]

+

* [[Surf & Sand]]

 
+

[[Category:The Mr. Men Show Characters]]

−
 
 
+

[[Category:Animals]]

−

==Trivia==

 
−

[[Category:Creatures that Do not Exist in Real life]]

+

[[Category:]]

 
+

[[Category:Mythological Creatures]]
---
Latest revision as of 18:43, 15 September 2013
A Sea Monster is a sea creature that doesn't exist in real life. It only appears in Season 2.

There are some sea creature similar Sea Monsters, like the Giant Fish from Lakes and the Giant Squid from Car Wash.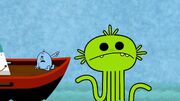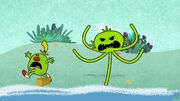 Appearances
Season 2
Community content is available under
CC-BY-SA
unless otherwise noted.