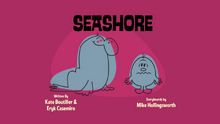 Seashore is a Season 2 episode in The Mr. Men Show.
Synopsis
The Mr Men and Little Miss go to the beach for a well deserved break, but of course unexpected things happens!
Plots
Mr. Quiet's Plot: Mr. Quiet is surrounded by some loud music, waves, and an elephant seal that looks like him and the ocean seems to be against him.
Miss Sunshine, Mr. Bump, Mr. Bounce and Mr. Fussy's Plot: Miss Sunshine tells a story about life on the seashore starring Mr. Bump, Mr. Bounce, and Mr. Fussy. (Not in the UK)
Miss Chatterbox and Mr. Stubborn's Plot: Miss Chatterbox and Mr. Stubborn are relaxing on the beach and Mr. Stubborn refuses to believe that the tide's coming in. Mr. Tickle offers out ice lollies as well as tickling people.
Mr. Fussy and Miss Scary's Plot: Mr. Fussy is annoyed and scolds Miss Scary for making monster stories at the beach and scaring Mr. Nervous, Miss Sunshine and Mr. Messy while collecting sea shells to make necklaces, but Mr. Fussy saw the monster and ran away.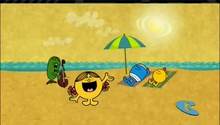 Trivia
Miss Whoops was wearing a hula skirt and she was doing a Hawaiian dance before the fourth plot.
Little Miss Scary has a sea monster that talks.
Community content is available under
CC-BY-SA
unless otherwise noted.