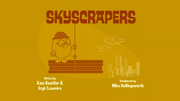 Skyscrapers is a Season 2 episode of The Mr. Men Show.
Mr. Bump and Mr. Strong's Plot: Mr. Bump and Mr. Strong are cleaning windows.
Mr. Nosy and Mr. Small's Plot (ONLY IN THE US VERSION!): They sing a song about the view of skyscrapers.
Mr. Grumpy, Mr. Scatterbrain and Miss Magic's Plot: Mr. Grumpy is to take a package to Mr Happy who is on the 99th Floor. Mr. Scatterbrain is on the Elevator with him and he forgets which floor to go to so he presses all the buttons. He lets other Mr. Men and Little Misses in who are also going to the 99th Floor. Miss Magic soon unpresses all the buttons but the 99th one and sends the Elevator into Outer Space.
Mr. Quiet, Miss Chatterbox and Miss Whoops' Plot: Mr. Quiet is construction working with Miss Chatterbox and Miss Whoops. He soon falls into cement and a vulture picks him up.
King Kong appears holding Miss Sunshine in the Bumpers.
Mr. Quiet's voice is much clearer in this episode.
Miss Magic has an elephant in her hat
2nd time Mr. Quiet was angry at Miss Whoops. First time was in Boats. This time seemed worse, as he fell in cement and turned to stone, and Miss Whoops knocked him off the sailboat the first time.
The stone Mr.Quiet was seen in a fountain in the ending scene.
2nd time Mr. Bump falls while doing work on a skyscraper lift with Mr. Strong. First time was in Paint, when he was painting, and fell into a paint can. This time Miss Scary scared him off.
Miss Scary was seen in a tutu during Mr. Nosey and Mr.Small's song, and appeared to be relaxing in a spa at the very end.
Three monkeys wearing hats and carrying suitcases were seen at the beginning of Mr. Grumpy's plot. It is possible that they belong to .Mr. Scatterbrain.
Goofs/errors
Edit
The scene transition was not placed between the first segment and the first bumper, having the bumper abruptly begin without any sort of transition from the previous segment. This is fixed in the UK broadcast.