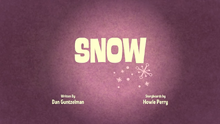 Snow is a Season 1 episode of The Mr. Men Show.
Synopsis
Mr. Bump's snowman proves a "flakey" companion; Little Miss Calamity braves the snow for a good broadcast; and even penguins are left shivering when Mr. Stubborn resists turning up the heat.
Plots
Mr. Bump and Miss Whoops' Plot: Mr. Bump makes a snowman, but he got caught by his sister's bulldozer, and she can't stop it!
Miss Calamity, Mr. Happy and Miss Sunshine's Plot: Little Miss Calamity reports on the snow outdoors on Good Morning Dillydale.
Mr. Grumpy and Mr. Stubborn's Plot: Mr. Grumpy visits Mr. Stubborn, but Mr. Stubborn's house is too cold!
Mr. Messy and Mr. Persnickety's Plot: Mr. Messy keeps shovelling snow into Mr. Persnickety's door step. He soon buries Mr. Persnickety in his house up with snow.
Miss Daredevil and Mr. Quiet's Plot: Miss Daredevil and Mr. Quiet sled to the snow. (Not in the UK)
Trivia
Mr. Pernickety's video is in this episode.
Goof: Mr. Stubborn has three hairs when he walks to the door.
Mr. Bounce says the pizza is a pepperoni pizza, but when Mr. Stubborn eats it, it looks like a supreme pizza.
At the beginning of Mr. Stubborn's plot, Miss Chatterbox says she loves taking a walk when the air is crisp. This may reveal that winter is her favorite season. Also she says "I try to appreciate..." She probably meant every day of winter.
Dub edits
Gallery