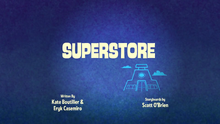 Superstore is a Season 1 episode of The Mr. Men Show.
Synopsis
An enthusiastic Mr. Tickle greets every customer with a tickle; Little Miss Daredevil gives an impromptu scooter demonstration; and Mr. Scatterbrain delivers diminishing returns at the return counter.
Plots
Mr. Tickle's Plot: Mr. Tickle gives customers a tickle at the Dillydale Superstore.
Mr. Nervous' Plot: Mr. Nervous imagines he's in a jungle with dinosaurs and hopes not to be eaten by a T Rex when he is really feeding mealy worms to Miss Helpful's Chameleon. (Not in the UK)
Miss Daredevil and Mr. Quiet's Plot: Miss Daredevil buys Mr. Noisy's scooter and drives it so fast knocking things over with Mr. Quiet.
Mr. Rude and Mr. Scatterbrain's Plot: Mr. Rude gives Mr. Scatterbrain his old toaster and wants a new one.
Miss Whoops' Plot: Miss Whoops has been asked to clean the floor but does it unsteadily and Mr. Bump gets badly hurt and both he and Mr. Strong say their catchphrases.
Trivia
According to @IMDb's website, imdb.com states that this episode, along with Games, is the only episode with everyone.

However, Mr. Messy, Miss Naughty, and Miss Chatterbox do not appear in either episode.

Miss. Daredevil's video is in this episode.
Mr. Rude sings a song called The Dillydale Superstore.
Miss Daredevil says "Hang on to your patootie, Mr. Quiet!" in the UK as well.
Gallery