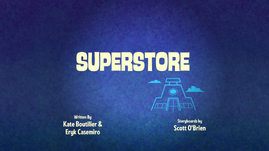 Superstore is a Season 1 episode of The Mr. Men Show.
Plots
Mr. Tickle's Plot: Mr. Tickle invites characters to the Dillydale Superstore.
Mr. Nervous' Plot (Only in US version): Mr. Nervous imagines he's in a jungle with dinosaurs and hopes not to be eaten by a T Rex when he is really feeding mealy worms to Miss Helpful's Chameleon.
Miss Daredvil's Plot: Miss Daredevil buys Mr. Noisy's scooter and drives it so fast knocking things over with Mr. Quiet.
Mr. Rude and Mr. Scatterbrain's Plot: Mr. Rude gives Mr. Scatterbrain his old toaster and wants a new one.
Miss Whoops' Plot: Miss Whoops has been asked to clean the floor but does it unsteadily and Mr. Bump gets badly hurt.
Trivia
According to @IMDb's website, imdb.com states that this episode, along with Games, is the only episode with everyone.
Miss. Daredevil's video is in this episode.
Mr. Rude sings a song called Dillydale Superstore.
Miss Daredevil says "Hang on to your patootie, Mr. Quiet!" in the UK as well.
Community content is available under
CC-BY-SA
unless otherwise noted.