Everyone in Dillydale finds surprises. It's also Little Miss Sunshine's birthday.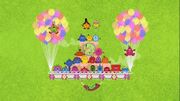 Plot
Mr. Quiet, Mr. Rude, Mr. Noisy, Mr. Nosey and Mr. Small's Plot: Mr. Quiet is trying to eat peacefully when Mr. Rude, Mr. Noisy, Mr. Nosey and Mr. Small come to his house for dinner.
Mr. Small's Plot: Mr. Small ads for his new "Oh My Goodness Goggles", which helps you see what your surprise is. (Not in the UK)
Mr. Grumpy, Mr. Happy and Mr. Scatterbrain's Plot: Mr. Grumpy and Mr. Happy go to Mr. Scatterbrain's Surprise Restaurant. It doesn't go good for Mr. Grumpy but he likes the food. What a surprise!
Miss Helpful, Miss Sunshine, Miss Scary, Miss Whoops, Mr. Bounce and Mr. Nervous' Plot: Miss Helpful distracts Miss Sunshine by taking her to the Dillydale Gardens for her birthday while Miss Scary and Mr. Nervous plan a surprise party. Mr. Nervous and Mr. Bounce make a good side while Miss Scary and Miss Whoops make a scary side. A spider shoots tootie fruity at Miss Scary 2 times. When Miss Sunshine returns everyone runs out and becomes unhappy instead. What a bad surprise. But the real surprise was that lots of Mr. Men and Little Misses made a her a good surprise of a flying cake machine and a baby bunny.
Trivia
Mr Scatterbrain's hat is more greenish in this episode.
It's unknown if Mr. Funny talked, as he is seen shouting "Surprise!" along with the others.
Every character (except Little Miss Calamity who makes no season 2 appearance) was in this episode.
it's unknown how Little Miss Scary, Mr. Nervous, Mr. Bounce, and Little Miss Whoops got on the cake machine when they ran out the house
The only one who wasn't on the machine was Mr. Rude, probably because he doesn't care.
Mr. Bounce was shown in a rabbit costume.
Community content is available under
CC-BY-SA
unless otherwise noted.