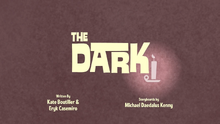 The Dark is a Season 1 episode in The Mr. Men Show.
Synopsis
Mr. Bump bumps his way around Little Miss Helpful's unlit basement; Little Miss Scary scares up some late night TV; and a live swamp creature cannot diminish Mr. Stubborn's streak of denial.
Plots
Mr. Bump and Miss Helpful's Plot: Mr. Bump needs a job by Miss Helpful to change her bolted light bulb, and Mr. Bump did, but fails and falls down the stairs. He uses a ladder and gets it, but as it is done, the ladder creaks and the light bulb smashes. Then Mr. Bump is lifted by a crane and falls down the stairs, and it turns there's another light in the basement, at the end, he shoos a giant spider.
Mr. Nervous' Plot: Mr. Nervous thinks he's in a big forest, but really he's in Mr. Nosy and Mr. Small's cabin. (Not in the UK)
Mr. Persnickety and Mr. Messy's Plot: Mr. Persnickety and Mr. Messy watch Miss Scary's Late Night Scare Fest, but Mr. Messy forgets that he's extra messy when he's scared. He looks outside and sees Mr. Bounce.
Mr. Stubborn, Mr. Quiet and Mr. Grumpy's Plot: Mr. Quiet, Mr. Stubborn and Mr. Grumpy go on a boat trip, in a swamp where a swamp creature dwells, Mr. Stubborn thinks it's a frog or a turtle or a duck rather than a swamp creature until it emerges from the water and brings Mr. Stubborn underwater with it and presumably eats him offscreen then Mr. Quiet says 'it was real nice knowing you, Mr. Stubborn". Mr. Stubborn is then seen on the stomach of the swamp creature still objecting its existence.
Bumpers
The characters turn off the light in the bathroom.
Mr. Happy brushes his teeth, and his reflection shows up in the mirror after turning off the light.
Mr. Strong admires himself in front of the mirror, and turns off the light, but makes a hole in the wall due to his strength.
Mr. Small washes his hands and tries to turn the light off, so he jumps to get the switch, but he only got himself swinging up and down.
Mr. Scatterbrain turns the light off, but see the Dillydale Swamp Creature wearing his hat on the reflection.
Trivia
Dub edits
The light on Mr. Small's bumper is different in both regions. In the US, the light turns off to a simple black color. This is absent in the UK.
Goofs
When the chair in MSLNSF is knocked over, Miss Scary puts it up and it was near the window on the right, but in the next cut of the TV, her chair is in the middle again.
Gallery