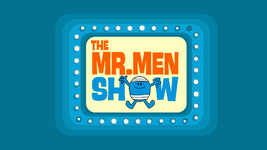 The Mr. Men Show is a British-American animated series based on the Mr. Men and Little Miss series of books produced by Renegade Animation. It premiered on Cartoon Network in the United States on February 4, 2008 and on Channel 5's Milkshake! in the United Kingdom on February 25, 2008.
List of Characters
Mr. Men
Little Misses
NOTE: All the Little Misses' names are referred on-screen without the prefix 'Little'.
Differences between the show and the books
Main article: The Mr. Men Show-Book Comparison
Episodes
Voice Cast
US Dub
UK Dub
Alex Kelly - Little Miss Bossy, Little Miss Scary (Season 2)
Aline Mowat - Little Miss Calamity
Claire Morgan - Little Miss Curious, Little Miss Giggles
Emma Tate - Little Miss Magic, Little Miss Sunshine (Season 2), Little Miss Helpful (Season 2), Little Miss Fortune
Godfrey - Mr. Metal
Jeff Stewart - Aliens
Jo Wyatt - Little Miss Sunshine (Season 1), Little Miss Scary (Season 1), Little Miss Helpful (Season 1), Little Miss Naughty (Season 1)
Joseph J. Terry - Mr. Rude, Mr. Scatterbrain
Keith Wickham - Mr. Small, Mr. Tall
Lewis MacLeod - Mr. Stubborn
Rob Rackstraw - Mr. Pernickety/Fussy, Mr. Messy, Mr. Noisy, Mr. Tickle, Mr. Happy (Season 2)
Simon Callow - Narrator
Simon Greenall - Mr. Bounce, Mr. Bump, Mr. Grumpy, Mr. Happy (Season 1), Mr. Quiet, Mr. Strong
Steven Kynman - Mr. Nosey
Teresa Gallagher (Milkshake)/Nathan Simpson (Going Live!) - Little Miss Daredevil, Little Miss Chatterbox, Little Miss Naughty (Season 2), Little Miss Whoops
Tim Whitnall - Mr. Lazy, Mr. Nervous
Japanese Dub
Noriaki Sugiyama - Mr. Happy, Mr. Tall
Haruo Sato - Mr. Grumpy, Mr. Nosy, Mr. Nervous
Yuuki Ono - Mr. Bump, Mr. Tickle
Reiko Takagi - Miss Sunshine, Miss Chatterbox, Miss Bossy
Tomoe Omi - Miss Calamity, Miss Naughty, Miss Giggles
Tomomi Nishimura - Miss Magic
Tomoko Kobashi - Miss Helpful, Miss Whoops
Kimiyoshi Kibe - Mr. Stubborn, Mr. Quiet
Emi Nakajima - Miss Daredevil, Miss Scary
Mitsuru Takakuwa - Mr. Persnickety/Fussy
Takuya Eguchi - Mr. Small, Mr. Noisy
Hideaki Nonaka - Mr. Rude, Mr. Bounce
Takashi Nagasako - Mr. Scatterbrain
Broadcast
The show premiered on Cartoon Network and Boomerang in the USA, YTV in Canada, Channel 5's Milkshake! in the UK, France 5 in France, Playhouse Disney in Asia, and ABC Kids and ABC Me in Australia, among other countries.
Trivia
This is the first TV appearance of Mr. Rude, Little Miss Scary, and Little Miss Whoops.
The show was originally going to premiere in October 2007 and its timeslot was 4pm EST, but was pushed back for reasons unknown. Its timeslot would eventually become 9am EST.
Two of the show's characters, Little Miss Calamity and Little Miss Daredevil, were created exclusively for the television series.

The former character, however, only appeared in the first season, as the production company of the show, Chorion, for an unknown reason, didn't like her.[1]

Little Miss Scatterbrain and Little Miss Stubborn have had their genders reassigned to become Mr. Scatterbrain and Mr. Stubborn due to the fact that the writers wanted the female characters to remain mostly positive.[2]
None of the character's catchphrases (except for Mr. Noisy's and Little Miss Whoops') are lines from their original books.
The entire show uses the Ed Interlock font. The opening and closing credits use Ed Gothic.
The series was animated by Renegade Animation for Cartoon Network/Channel 5 and Chorion.
There were 104 episodes with 52 from season 1 and 2 each.
The show's simplistic art style was inspired by UPA animation.[3]
There is a live show that has been held in some countries including Singapore, as seen here.
This show was one of the only shows on Milkshake in the UK not to be affected by Viacom's takeover of Channel 5 in 2014, with others including Peppa Pig and Ben and Holly's Little Kingdom.
Little Miss Twins and Little Miss Fickle were planned to be in the series, but they were scrapped because Cartoon Network did not want too many female characters even though the show only had 19 Mr. Men. The show's Little Misses consisted of 12 (minus 1 due to Little Miss Calamity's absence). Also, a character named Little Miss Fabulous was also considered being created for the series before the books' Little Miss Fabulous was created in 2016.
Little Miss Fun appeared as a character in several pieces of official merchandise looking relatively the same, but she was unused in the series itself. Mark Risley confirmed that she wasn't meant to be a character.
Reception
The series has become a huge cult classic in recent years, and is considered to be one of Cartoon Network's most beloved forgotten shows.
Gallery
Mr. Men
Little Misses
Merchandise and promotional material
Miscellaneous
References
| | | |
| --- | --- | --- |
| V · T · E | Roger Hargreaves | |
Community content is available under
CC-BY-SA
unless otherwise noted.