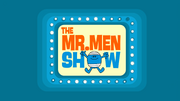 The Mr. Men Show is the show premiered on Cartoon Network in the US, Milkshake Five in the UK, France 5 in France, ABC1, ABC2 and ABC3 in Australia, and YTV in Canada.
List of Characters
Mr. Men
Little Misses
All the Little Misses' names are referred on-screen without the prefix 'Little'.
Episodes
Season 1
Season 2
Voice Cast
US Broadcast
UK Broadcast
Aline Mowat - Little Miss Calamity
Chris Jarvis - Mr. Tall
Emma Tate - Little Miss Magic, Little Miss Sunshine, Little Miss Helpful
Godfrey - Mr. Metal
Imelda Staunton - Little Miss Bossy
Jeff Stewart - Aliens
Jo Wyatt - Little Miss Scary, Little Miss Sunshine (Season 1),Little Miss Helpful (Season 1)
Joseph J. Terry - Mr. Rude, Mr. Scatterbrain
Keith Wickham - Mr. Small
Lewis MacLeod - Mr. Stubborn
Rob Rackstraw - Mr. Persnickety/Fussy, Mr. Messy, Mr. Noisy, Mr. Tickle, Mr. Happy
Pui Fan Lee - Little Miss Giggles
Simon Callow - Narrator
Simon Greenall - Mr. Bounce, Mr. Bump, Mr. Grumpy, Mr. Happy (Season 1), Mr. Quiet, Mr. Strong
Steven Kynman - Mr. Nosey
Teresa Gallagher - Little Miss Chatterbox, Little Miss Daredevil, Little Miss Naughty, Little Miss Whoops, Little Miss Curious
Tim Whitnall - Mr. Lazy, Mr. Nervous
Notes
This is the first TV appearences of Mr. Rude, Little Miss Scary, and Little Miss Whoops.
Season 2 takes place one year after season one.
A lot of the characters have had updates.
The first appearances of Little Miss Daredevil, Mr. Stubborn, Mr. Scatterbrain and Little Miss Calamity.
On this very Wiki, the framegrabs are very distorted and blurry, dullish so it looks like it was made in the 80s or 90s. For example, Little Miss Curious's framegrab looks like it was made in 1992.
None of the character's catchphrases (except for Mr. Noisy's and Miss Whoops') are lines from their original books.
Any stuff for Season 3 must go on this article till further notice.
Gallery.
Community content is available under
CC-BY-SA
unless otherwise noted.