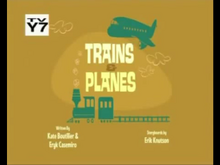 Trains & Planes is a Season 2 episode of The Mr. Men Show
Plots
Mr. Bump and Miss Helpful's Plot: Mr. Bump is sent to fix a line since a storm demolished it but by the time he finishes it Miss Helpful tells him get the off track.But she was listening to the wrong track.
Mr. Messy's Plot: Mr. Messy has an ad for his new airlines, Messy Airs. With some people complain about. (This plot was deleted from the UK version)
Mr. Fussy, Miss Scary, and Miss Magic's Plot: Mr. Fussy offers from Miss Magic lemonade on the plane. However she turns Miss Scary into a pineapple, and she turns Mr. Fussy into a block of ice.But she soon gives him lemonade.Mr. Fussy starts to enjoy the trip. Only to buried alive by pineapples which Mr. Rude uses a straw to drink the lemons out to his delight.
Mr. Grumpy's Plot: Mr. Grumpy is on The Dillydale Express pulled by an intercity 125.Along with Miss Sunshine, Mr. Scatterbrain, and Mr. Tickle.Much to his annoyance,because Mr. Tickle tickles Miss Whoops causing her uncouple the coaches.
Fun Facts
Trivia
When Mr. Grumpy takes out his cell phone it is shown he has a pocket.
The pilots of Messy Airs are Little Miss Sunshine and a pig.
The book that Mr. Grumpy was reading was his auto biography.
Mr. Messy owns his airplane.
Remarks
Mr. Bump and Miss Helpful passed a crossing sign, even though it wasn't there when the two were heading to the broken section.
There were only two tracks when Mr. Bump and Miss Helpful are repairing them, but the train goes on the same track the pump trolley was in without crashing into it, after Miss Helpful knocks Mr. Bump over. This makes it like there's a third track.
At the end, Little Miss Whoops was a pilot and Mr. Bump was on the plane, but a few seconds later Mr. Bump is with Little Miss Helpful and Little Miss Whoops is driving a train.
Community content is available under
CC-BY-SA
unless otherwise noted.