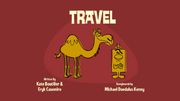 Travel is the 50th episode of Season 2 of The Mr. Men Show.
Synopsis
The Mr Men and Little Miss are going on a new adventure: travelling! Get ready for a bumpy camel ride, a relaxing time by the pool and a mountain cabin too small for our friends!
Plots
Mr. Fussy, Mr. Strong, Mr. Messy and Mr. Tall's Plot: Mr. Fussy, Mr. Strong and Mr. Messy travel to the forest in the mountains. Mr. Messy invites Mr. Tall to stay with them, but he can't fit in the car so he walks instead, Mr. Messy didn't tell Mr. Strong and Mr. Fussy he was going to stay with them, but he finally arrives. But it rains all day and the power goes out, things become worse when it rains so hard that a flood comes and makes their cabin start to tip over the edge of a cliff, the Mr. Men knew it was smart to stay of the side with less weight, but Mr. Messy tries to pick up his sock and he falls out the window, luckily Mr. Tall was there to rescue him, but then Mr. Fussy almost falls out, Mr. Strong attempts to grab him, but crashes into the wall instead, causing the cabin to fall off the edge of the cliff into a pile of mud. Mr. Tall then says "Look on the Bright side Mr. Fussy, We have only 5 days left of holidays".
Mr. Rude's Plot: Mr. Rude does an ad for his new theme park called Rudeland. (Not in the UK)
Fun Facts
Remarks
This is the last appearance of Mr. Noisy, Mr. Bounce, Miss Magic and the Angry Heads. This is also only time the Angry Heads appear in Season 2.
This is the last episode with Mr. Rude and farting.
This is the only time that Mr. Tall has a plot and a speaking role outside of the crowd shot with nearly all the characters saying "SURPRISE!" in Surprises.
This is the second time Mr. Grumpy, Mr. Scatterbrain, Miss Sunshine and Mr. Tickle shared a plot. The first was in Trains and Planes.
Gallery