Welcome!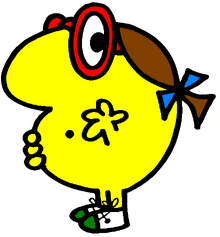 Hello users visiting my profile, I'm SophieTheSapphire1 (you can call me Sophie for short) and I only share very little personal information of me. I'm very nice and love kindness. If I were a Little Miss, I would be Little Miss Busy.
About Me
Favorite Characters: Mr. Good and Little Miss Princess
Favorite Hobby: Maths and Music
Favorite Colours: White and Lavender
Likes: Mr. Men and Little Miss
Dislikes: Bullies
Birthday: August 15
Languages: French (a little), English, Chinese
Personality
Kind, a bit controlling, brave, intelligent, likes fun stuff, likes splendid stuff, many talents, a bit shy/nervous.
Books I own
Mr. Men
Mr. Greedy
Mr. Nosey
Mr. Small
Mr. Chatterbox
Mr. Bounce
Mr. Muddle
Mr. Strong
Mr. Grumpy
Mr. Clever
Mr. Good
Little Miss
Little Miss Sunshine
Little Miss Twins
Little Miss Lucky
Little Miss Star
Little Miss Princess
Total: 15
Target for amount of edits
That's all for my profile, Au revoir!
Community content is available under
CC-BY-SA
unless otherwise noted.